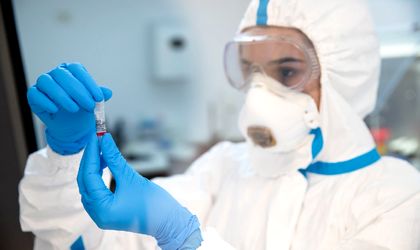 REGINA MARIA Healthcare Network has reached 10,000 tests processed in its laboratories to detect the infection with the new type of coronavirus. The medical provider continues to support the national testing efforts through its three fully equipped laboratories, accredited and authorized to process RT-PCR tests. These labs process about 20% of the total tests performed in Romania every day.
Until now, over 4,000 tests out of 10,000 processed in the REGINA MARIA laboratories have been completely free for public hospitals, the others being processed within the national program and in collaboration with public and private institutions, such as dialysis centers. REGINA MARIA is the partner of the largest dialysis centers in the country, for which it has performed over 500 tests for patients and medical staff.
The more than 4,000 free tests are part of a total of over 11,000 free RT-PCR tests, representing reagents, consumables and collection systems for COVID-19 detection. The more than 11,000 test systems were purchased with the support of the REGINA MARIA Network's corporate partners – companies that benefit from medical subscriptions and have chosen to support the fight against the new coronavirus – and have been made available free of charge to hospitals and public institutions in the worst affected regions.
REGINA MARIA processes tests for the main dialysis centers in the country, as well as for public institutions and hospitals, testing both patients and healthcare professionals at risk of infection. The Healthcare Network also tests its own medical staff, as well as patients scheduled for interventions, in accordance with the rules in force.
"Since the beginning of this situation, we have been involved in free RT-PCR testing and now we are processing 20% of the tests performed daily in Romania, through our 3 molecular biology laboratories accredited to process such tests. To date, 40 public hospitals have benefited from free tests supported by us and corporate subscribers that are supporting the medical system during this period. I would like to thank our partners, companies and individuals, who stand by us and choose to financially support these tests, so that they can be offered free of charge to those in greatest need.

As compared to April 14, the number of tests performed by REGINA MARIA Healthcare Network is almost double, since one of the labs involved in the testing process has a 24/7 working program in order to support the growing demands", says Fady Chreih, CEO REGINA MARIA Healthcare Network.
The private provider processes the tests in three accredited molecular biology laboratories – two in Bucharest and one in Cluj – equipped with the tools and flows required to also process RT-PCR tests and having a dedicated team of 20 laboratory specialists. The Network can process 860 tests/ day and has so far served more than 40 hospitals and public institutions in several counties of the country.
The tests are prioritized in accordance with the recommendations issued by the Ministry of Health.