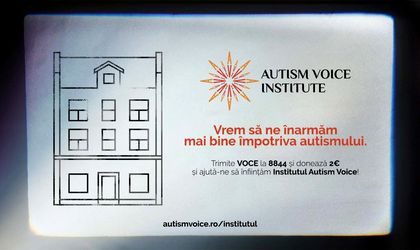 "We still know too little about autism spectrum disorders (ASD). We need more weapons to deal with them. " – this is the message of the latest Autism Voice campaign, which bears the signature of the pastel creation and communication agency, and which announces the raising of funds for the Autism Voice Institute, the first multifunctional autism recovery and research center in Romania. Launched nationwide in early December, the campaign aims to attract donations, both from individuals and legal entities, to raise the amount of 270,000 euros needed to set up the institute.
To draw attention to the importance of such an institute, Pastel and Autism Voice organized a social experiment in October, which was meant to showcase that autism spectrum disorders are still unknown, especially in Romania, and that, of course, it takes a lot more resources to tackle them. In the Sun Plaza shopping center in Bucharest, public figures and occasional visitors were invited to enter a room and choose a weapon they found on display. The choice was made according to the danger intuited only from the sounds that could be heard from the next room. The second step involved confronting the danger. Participants were surprised to learn that the sounds were part of a video that exposed an episode of frustration of a child diagnosed with ASD, during therapy hours at the Autism Voice Center.
The integrated campaign was created by Pastel and implemented with Autism Voice. It included TV and radio spots, broadcast on national channels, as well as important components of PR, media pitching, influencer relations, and digital. Among the public figures who took part in the experiment and supported the campaign on their channels are Feli Donose, Adrian Nartea, Șerban Copoț, Costel Bojog, Dan Cruceru, Andrei Leonte, Andi Vasluianu, Dana Săvuică, and Nicolai Tand.
"Together with the pastel team, we decided it was time to stop ignoring the difficult and stigmatized side of autism and to draw attention to its manifestations. The goal of the organization is for each of us to understand, even to a small extent, what families whose members have been diagnosed with ADS go through and make more people want to be part of the solution.", declared Anca Dumitrescu, President of Autism Voice.
—
"This is not our first collaboration with Autism Voice, we know the challenges they have, but this campaign has made us understand even better what the fight against autism means and how much help is needed. Our priority was to identify ways to bring up a sensitive topic that many consider harsh and to co-opt the media channels, influencers, and opinion leaders that could help us amplify the message. With an inspired idea and a good execution, we managed to attract pro bono partners and supporters, who help us give a strong voice to the Autism Voice team. 2022 is the year in which campaigns like the one worked for Autism Voice will find a bigger place in our portfolio, the growth of the CSR area, and the campaigns built for good, being part of our strategic directions this year." Declared Dana Nae Popa, pastel owner & managing director.