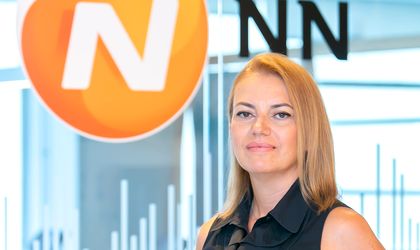 Supporting the community is one of NN's strategic priorities, reflected in initiatives that contribute to people's physical, emotional and financial well-being.
Since the beginning of 2021, NN Romania has participated with over 1 million euro and over 1,000 hours of volunteering in social causes of impact and will continue to amplify its role in society, in line with the strategy of the international group NN Group it is part of. In total, NN Group donated last year 8 million euro and over 13,500 hours of volunteering in communities from the 11 countries in which it operates, including Romania. NN Group's contribution to society represents 0.4% of the operating result before taxes, and the objective is that by 2023 it will reach 1%.
The largest initiative carried out in Romania is the partnership with the Inima Copiilor Association for the extension of the Cardiosurgery Department of the Marie Curie Children's Hospital in Bucharest, thus giving chances to life to more children born with heart malformations that today cannot be operated on time. NN donated 500,000 euro last year to start the project and is still doubling the funds raised from individual donations of 2 euro via SMS to 8844. At the same time, this year, about 150 NN employees ran at the NN Charity Run, during the Your Community Matters Week, and turned 770 kilometers into donations to the Inima Copiilor Association.
Also part of the Your Community Matters Week, the social responsibility and involvement action carried out for the second year, the Romanian team was involved in a series of initiatives dedicated to children, together with Hope and Homes for Children. NN volunteers gave gifts on June 1 to over 200 children without family from Ukraine, in placement centers in Romania, talked to young people who are preparing to start independent lives about career opportunities and ran at Color Run to help build a house for a disadvantaged family with 7 children. All in continuation of the collaboration with Hope and Homes for Children in 2021, through which NN has supported 150 young people who are preparing or have already left the child protection system to develop skills for an independent life and to successfully integrate into society.
"At NN, we are always there for people and we don't think about it when it comes to doing good around us, where it is most needed. In the past year and a half, we focused on initiatives that have the power to make a difference, whether we are talking about a better start in life for children who come into the world with health problems, economic opportunities for young people from disadvantaged backgrounds, wellbeing, encouraging entrepreneurship and social innovation or helping those who are going through difficult contexts", says Gabriela Lupaș-Ţicu, Chief Marketing & Operations Officer at NN Romania.
NN was involved in the first half of 2022 in supporting the refugee community in Ukraine through donations of almost one million euro at group level, of which 220,000 euro allocated only in Romania, for initiatives carried out locally. Together with the Red Cross, NN supported actions to help the refugees who came to Romania, but also those still in Ukraine, through the Humanity has no borders campaign, with the NN donation being used to sending aid to those in need. In addition, NN joined Hope and Homes for Children to help arrange accommodation and offer assistance to children from Ukraine who came to Romania with the help of the General Directorates of Assistance and Child Protection. Together with Royal Club Romania, NN also facilitated access to medical support for Ukrainians in need, and together with Code4Romania contributed to the project of developing the ecosystem of digital solutions meant to support refugees, but also volunteers.
At the same time, NN continued its initiatives in the field of education. In the Future Matters Scholarships program, the company annually supports young people from all the countries in which they operate to pursue a master's degree in the Netherlands. Also, through the collaboration started in 2014 with Junior Achievement, NN supports entrepreneurship and social innovation under the umbrella of the Social Innovation Relay program. And for the development of innovative social solutions, NN supported Ashoka Romania in 2021 in the initiatives to facilitate projects to increase the resilience of civil society to emergency situations, the use of technology in health and prevention and the increase of social and financial inclusion, as well as in the steps for the growth of the community of local social entrepreneurs Ashoka and the amplification of their projects.