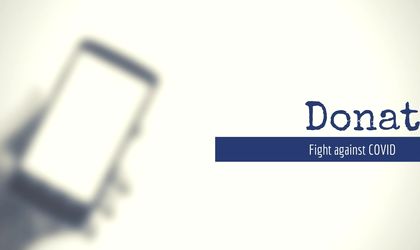 The NGOs in the healthcare and social assistance area fight the new coronavirus (Covid-19) pandemic, offering medical equipment for the doctors and nurses all over Romania, as well as support for the most vulnerable categories of people. Business Review will constantly update the list.
NGO campaigns. You can actively participate
The Daruieste Viata Association, the NGO that is building the biggest pediatric oncology hospital in Romania from public donations, announced that it will direct all funds it will raise from March from text message (SMS) donations into the acquisition of protection equipment, materials, and medical equipment for local infectious disease and emergency hospitals.
You can donate by SMS at 8826 – using word IMPREUNA – costs EUR 2, or donating directly to their accounts.
Red Cross Romania started an emergency fund – #RomaniaSalveazaRomania (Romania saves Romania) – and everyone can participate by texting 8825 –  for EUR2. More information about donations are available on their official website.
Save the Children Romania opened an emergency fund for the immediate support of the medical system, with a focus on the emergency care sections for children, maternity and newborn intensive care units. Donations can be made here.
The Zi de Bine Association, curator of social causes, also announced its fundraising campaign for the hospital in Brasov, so that the medical unit can provide care to the people infected with COVID-19.
You can donate EUR 4  by SMS at  8862 – using word SUS. More donations can also be made by bank transfer. Further details are available here.
Pretuieste Viata Foundation takes EUR 2 donations through SMS at 8825 – using word SANATATE.
#platestechiria is another initiative for those actors who are working in the independent sector and they are currently unemployed, without any financial support from state. Some Romanian actors teamed up to help them pay the rent, while their performances got cancelled as a safety measurement for COVID. The initiative can be supported here.
Tara Fagarasului Communitaty Foundation needs funds for the local hospital. You can donate directly to their accounts here.
Asociatia pentru Relatii Comunitare is in charge to help out a series of hospitals all over Romania and they are currently updating the list of needs on their Facebook page. You can donate here.
Inovatii Sociale Regina Maria Foundation is giving a hand. You can donate by SMS at 8848 using SOARTA word or directly to their accounts.
Asociatia Daruieste Aripi Constanta can be helped by SMS at 8824 – with the message STOP CORONAVIRUS. More donations can be made using information from their official website.
Princess Margareta of Romania Foundation is joining forces for the elders. You can help by texting SINGUR at 8844, donating EUR2, or by direct sponsorship.