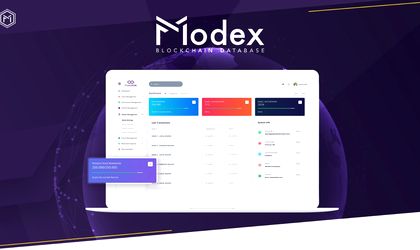 These are challenging times for us, as individuals, for lots of industries and, on a bigger scale, for the world itself. Faced with the unprecedented coronavirus pandemic, heads of state, companies and countries are taking firm actions. Only by working together we can end this crisis sooner rather than later, so Modex is also offering the expertise for those who want fight better against COVID-19.
Modex is ready to offer technical consultancy to companies, entities and NGOs that support the fight against the on-going coronavirus pandemic. As a result, a full license to use Modex BCDB (Blockchain Database) will be granted for free to local and global online and offline platforms which are involved in this mutual effort of providing real and trusted data to the public and monitoring of the global crisis caused by COVID-19. Modex contributes to easing the effects of the coronavirus crisis by offering software consultancy for involved entities and helps those who are affected by cyber attacks by ensuring data security and integrity, and real-time backup.
Mihai Ivascu, Modex Founder and CEO: "Healthcare units have been pressured constantly over the past weeks, losing valuable data and being subject to ransomware attacks. Websites showcasing real stats and accurate information are being taken down by hackers, with the clear intention of spreading out fake information. We all need to contribute these days with as little as we can and support the real Heroes that fight the coronavirus outbreak in the front line.

To this end, we are joining the initiative of many tech companies by offering our Modex Blockchain Database (BCDB) infrastructure licence for free to all medical units, NGOs, activists, local governments or organizations that want to implement an extra layer of security to their valuable data, online and offline. Stay safe and healthy during these challenging times!"
If you are part of an organization supporting the medical field, get in touch with our team at contact@modex.tech
About Modex and Modex BCDB
Modex is promoting the adoption of blockchain technology and strongly believes in a future built around blockchain. Modex offers fully integrated services designed to solve the last mile adoption problem of the blockchain and aims to make blockchain user-friendly for every single device or person. At Modex, we can innovate thanks to our incredible team of experts and we offer services for the entire blockchain technology ecosystem: Marketplace for Smart Contracts, community tools for developers and blockchain as database services for enterprises. In over two years, using cutting-edge technologies and with a clear strategy, Modex has evolved from the world's first app store for blockchain into a complex ecosystem designed for developers' needs and enterprises looking for blockchain solutions. Our mission is to spread and facilitate the adoption of blockchain into society and to solve real-world problems using this revolutionary technology.
Modex BCDB (Blockchain Database) is a middleware that fuses a blockchain with a database to create a structure which is easy to use and understand by developers with no prior knowledge in blockchain development. As a result, any developer who knows to work with a database system can operate with our solution, without needing to change their programming style or learn blockchain. For enterprises, Modex BCDB translates into enhanced data security, secure data sharing, streamlining of operations and maximum protection against cyber attacks.