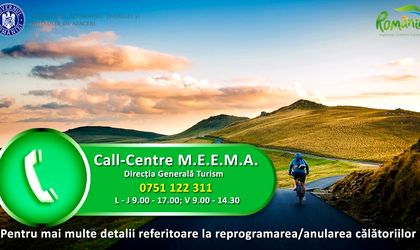 The General Directorate of Tourism within the Ministry of Economy, Energy and Business Environment (MEEMA) has opened a call center dedicated to those who want to know details about canceled holidays and the situation of reimbursement, according to an announcement posted on the Facebook page of the Ministry of Tourism – the current General Directorate of Tourism from MEEMA.
"Courtesy of the Ministry of Economy, Energy and Business Environment – General Directorate of Tourism, a call-center was established for people who have questions regarding rescheduling trips, canceling them and implicitly reimbursing the amounts paid for service packages, taking into consideration the current epidemiological situation. The phone number is: 0751.122.311. In this way, we ask you to call this phone number only if you are in one of the situations mentioned above", mentioned in the announcement the Directorate General of Tourism of the Ministry of Economy.
The call-center program is also announced on the website of the Ministry of Economy, at the Tourism Department:
Monday – Thursday: 09:00 – 17:00
Friday: 09:00 – 14:30
At the same time, the representatives of the Tourism Department announce that the requests for postponing the holidays or refunding the amounts paid are made to the travel agencies. "If you wish to request a postponement of the trip for a later date or a refund of the amounts paid, we recommend that you make a written request to the economic operator. At the same time, we ask you to consider the large volume of requests for the economic operators in the field of tourism and to treat with patience and understanding the steps taken by them for successfully solving your request ", as the press release published on the website of the Ministry of Economy underlines.
Earlier this month, Economy Minister Virgil Popescu appealed to Romanians who paid in advance their holidays to travel agencies not to ask for money back, "because they can't give it back and they risk introducing companies into bankruptcy ", showing that the most prudent thing would be" to wait or ask for a voucher from the agency, a rescheduling". Most travel agencies pay in their turn the holidays, so it becomes quite difficult to obtain a refund in order to give them back to holiday-goers.