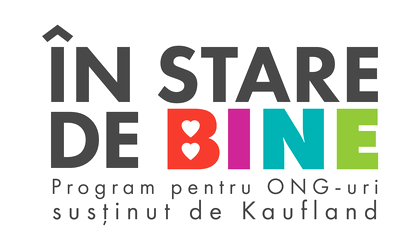 Kaufland Romania announces the start of a new call for projects within the "In Stare de Bine" program, which offers NGOs grants to carry out sustainable projects for Romania. The budget of the current call for projects is RON 2,244,500.
NGOs are invited to prepare their applications for the second call for projects session this year, which takes place between July 21st-23rd, 2020. NGOs should submit projects online on the program platform, available at www.instaredebine.ro, in Romanian language.
The areas covered by the program are culture, sports and healthy living. Increased attention in selecting winning projects is paid to those that address vulnerable groups as a matter of priority and that actively involve the beneficiaries and the communities to which they belong.
The budget of a project can be minimum RON 25,000 and a maximum of RON 235,000, and the duration between 2 to 6 months. More details about the application criteria, the Applicants' Guide and the documents to be filled in are available on the program's website, www.instaredebine.ro.
The organizers are also planning an online information session for all interested organizations, which will take place on July 14th, 2020, between 15:00 and 17:00 (details of participation will be announced later on the program website).
The first call for projects this year took place in April and was named În stare să ajut. Launched early in the pandemic, it provided funding to NGOs across the country that mobilized to help medical staff and vulnerable groups affected. 14 projects and 3 other for back-up were selected for funding, with activities in the communities of 17 counties in the country and in Bucharest. These are still in progress, details of which are available here.
"The fight for good never ends, so we continue our mission to provide support to the non-profit sector through a new call for projects, which is clear evidence of our commitment to help and contribute. From here on, one more time, we assume we are close to the communities and we do not stop showing that involvement makes the difference, from small actions to large projects ", said Anna Katharina Scheidereiter, CSR Manager Kaufland Romania.
#ÎNSTAREDEBINE Program is supported by Kaufland Romania and implemented with the help of FDSC NGO (The Foundation for the Development of Civil Society). The total value of the non-reimbursable grants allocated by "In Stare de Bine" program amounts to EUR 1 million.
About the grants program
 #ÎNSTAREDEBINE Program is addressed to all associations, foundations and federations that develop projects in the fields of culture, sports and healthy living and that address priority to vulnerable groups. It is supported by Kaufland Romania and implemented with the support of the Foundation for Civil Society Development. The total amount of non-reimbursable grants allocated annually under the program amounts to EUR 1 million.