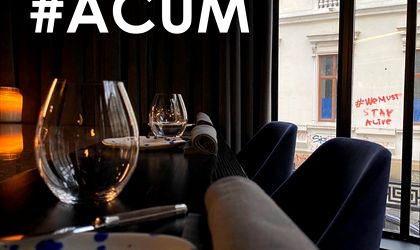 Starting March 24, Kané – New Romanian Cuisine becomes, temporary, a community kitchen that will serve tasty food to those that are our biggest heroes during this period of time: the doctors and nurses in the hospitals, but also for the most vulnerable ones and who, due to the nature of their work, cannot stay home. This reinventing represented a complex transformation and re-organization of the internal flow process that started March 15.
Romanita Oprea
#ACUM, Kané – New Romanian Cuisine launched, alongside its main partner Mastercard and other partners a solidarity initiative on two pillars. The first one supports the industry through a mechanism that puts together local producers and suppliers that can deliver ingredients in this period, as well as chefs from other restaurants that suspended temporary their activity. The second pillar supports the doctors and the medical staff that work non-stop in Bucharest's hospitals and who will receive daily nourishing food. In order to win we need resources and the good quality food is an indispensable resource for them.
#ACUM will cook only for delivery, good quality food, simple, tasty, accessible, that will allow the projects' creators to help as they know better, while they are also making sure they are taking all the precaution measures necessary for the protection of their colleagues' health.
With the help of associations such as Daruieste Viata, Act for Tomorrow and The Bucharest Constructions Students Association, #ACUM, alongside their partners, created a network of centers that will deliver food each day towards Institutul de Pneumoftiziologie Marius Nasta, Institutul National Victor Babes and Floreasca Emergency Hospital and, at the same time, they do the bestthey can to reach as many health centers as possible in Bucharest that are taking care of the pandemia cases.
In order to enlarge even more the impact of the project, #ACUM will take orders on three pillars: corporate delivery for lunch during week time (for over 20 portions), family menus during the weekend and Uber Eats starting March 31st, with the intention of supplementing the number of donated menus. For each menu ordered, #OMasaDeNepretuit goes #Acum, direct and free, towards our first line heroes.
#ACUM is a project created with the support of Mastercard and other companies that wanted to get involved in this initiative of supporting the horeca industry: Genesis Property (Novo Park and WestGate), BCR, Lateral, Secom, Autonom, Biodeck and Act for Tomorrow. The objective is to deliver at least 5.000 hot meals.