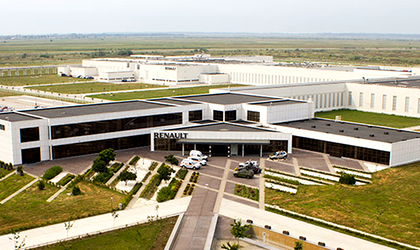 A team of engineers from the Engineering Center, Renault Technologie Romania, through Titu Technical Center (Dâmbovița), produced Y-shaped connections using 3D printing technology. These are useful as a temporary and emergency solution for the situation in which the capacity to cover ventilators needs would be exceeded.
700 such parts were donated through Groupe Renault Romania Foundation, in partnership with Automobile Dacia, to SMURD Foundation to be distributed further to front-line hospitals. They can be used in a situation of overuse of medical intensive care units with patients in critical condition.
"We have mobilized in a team dedicated to this medical emergency. We tested several variants, validating the prototype with specialist intensive care specialists from Targu Mureş, and it was launched in production through 3D printing. The cadence of the print was 20 pieces in 26 hours. We have optimized manufacturing times by printing parts upright and reducing the losses of necessary material used, thus using the maximum printing capacity," said Mihai Enculescu, Engineer Coordinator in RTR Prototypes department.
Groupe Renault Romania has joined the fight against the COVID-19 pandemic since the onset of the health crisis in Romania.
Thus, the company mobilized a fleet of 150 Dacia and Renault cars in the fight against the virus, making them available to the Ministry of Health for distribution, with the help of the Dacia and Renault dealer network, to hospitals in Romania. The community of Arges benefits from a testing device at the COVID-19 Support Hospital in Mioveni through a sponsorship, worth more than half a million lei, with the support of the Groupe Renault Romania Foundation and Dacia Automobiles. Together with Acarom and the Romanian Auto Partnership, Groupe Renault Romania has contributed to the repair of 50 ventilators, in collaboration with DSU and IGSU.
At the same time, the Groupe Renault Romania Foundation, with the support of Automobile Dacia, will purchase laptops and tablets for children from disadvantaged communities. Group employees and more, anyone who wants to support a major cause, namely access to school education, can direct the 3.5% of income tax and fill out 230 Form by the end of June.
The SMURD Foundation is a non-governmental organization, established in 2006 as a private, non-profit, apolitical legal entity, independent of any other institution or person. Promoting transparency and professionalism, SMURD Foundation supports, through all the projects developed, the work of the Mobile Emergency, Resuscitation and Descarceration Service (SMURD). The Foundation operates independently, contributing to the formation of an integrated healthcare system, emergency technique and strong first aid. The Foundation's work is carried out through sustainable partnerships between competent institutions, such as the Ministry of Administration and Interior (General Inspectorate for Emergency Situations and Special Aviation Unit), Ministry of Health, local public administrations or other companies and bodies responsible or willing to get involved in this.