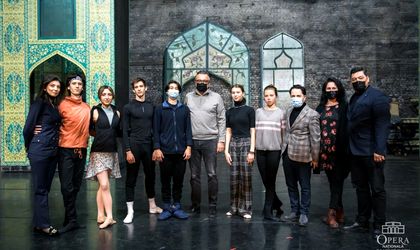 The Bucharest National Opera joined the efforts to help the artists who are victims of the war on Ukrainian territory and, on March 4th, five ballerinas of Ukraine refugees in Romania have begun the study program. 
Thus, they will study together with the ballet dancers and ballet masters of the Bucharest Opera, which will at least partially ensure their feeling at home and even normality. Moreover, this ensures professional continuity. 
The Minister of Culture, Lucian Romașcanu, was also present at the meeting, who said: "We have here five ballet dancers who left because of the horrors there, and the Opera understood to host them and to provide them with all the conditions to continue their rehearsals, so as to maintain themselves in shape. Depending on what legislative measures we manage to adopt regarding the integration into work of those coming from Ukraine, they will probably also be able to be offered cooperation contracts. I want to congratulate all those who manage to get involved in such actions, including the institutions subordinated to the Ministry of Culture, which have not been late in meeting the refugees. The National Theatre of Bucharest is also ready to receive artists, as does the National Opera, in order to integrate them into their team for as long as necessary. I know that the people there used their own bus to help transport the refugees, while the "Dimitrie Gusti" National Village Museum and the National Museum of Romanian History collected food for the refugees. The Madrigal Choir also recorded the National Anthem of Ukraine alongside Tania Kolotylo, a young refugee from Ukraine with a wonderful voice. It is natural to do all these things, and the fact that the Ministry of Culture is one with many subordinated institutions and with many employees helps us to leave an important imprint in this approach of helping people who need, more than ever, other people."
—
"I am delighted that we can meet our colleagues in Ukraine. In these difficult times, the Bucharest National Opera provides five Ukrainian ballet dancers with the opportunity to enter the study program. I want to congratulate my colleagues, the employees of the ONB, for their willingness to support them and for their humanity. ", said Daniel Jinga, acting general manager of the Bucharest National Opera.