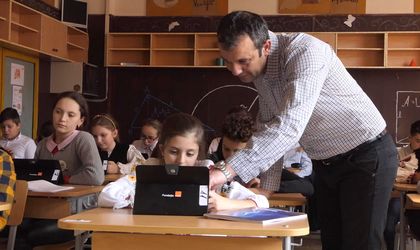 In the context of the school suspension measure, the Online learning and testing section available on the Digitaliada platform has proven very useful for the continuation of the educational process, for all teachers and students in Romania. As of March 10th, a number of 300 new schools, 750 teachers and 1,250 students have enrolled, taking advantage of this Learning Management System, available free of charge, powered by Orange Foundation, through the Digitaliada program.
"Our thoughts first go out to those who have been affected by COVID-19. In these times, we are doing all we can to make sure the Digitaliada Platform works properly, for teachers, students, parents and principals, alike, so that they can keep in touch and continue the education process. Digitaliada, a program launched in 2016, promotes and supports education via digital means. The Testing and Learning Section has been added to the Digitaliada Platform last autumn, upon the request of the teachers we work with as part of this program and it is permanently updated and upgraded. With the suspension of schools, this Learning Management System has proven very useful; helping teachers, students and parents to stay connected and attend classes, do homework and take tests online." – Amalia Fodor, Orange Foundation Manager.
The Learning Management System solution launched by Digitaliada in November 2019 is available in Romanian, it is free of charge at all times, and it can be used on any type of device. More than 84 classes and 1,000 Mathematics exercises are currently available, and the platform also registers the time-per-lesson for each student, the number of errors, this information being automatically shared with the teacher and the parent. The Virtual Library includes more than 200 Mathematics problems for the 6th, 7th and 8th grades, for teachers, parents and students, demonstrated in GeoGebra, while the Test Library offers more than 220 tests, for various school subjects.
More than 430 schools in the urban and rural environment, 2,100 teachers, 6,200 students and 2,300 parents are already using the platform. Teachers and elementary school educators draw up tests and assign homework online; students go through the materials and take tests, while parents receive the educational objective schedule and the students' results.
A number of schools desiring to stay in touch with their students have started using the platform after the suspension of classes. Cosmina Tudose, a Mathematics Teacher at "Șăulia" Grammar School, Mureș County, one of the new users registering on the platform, says: "Șăulia Grammar School has been present on the Digitaliada platform starting the first school suspension day. Students are active; they daily receive homework and upload it, in an attempt to make sure that regression is kept to a minimum in our school. Students are thrilled with the idea of combining modern technology and school subjects, and they are also happy about how user-friendly the platform is. We will continue the education process through the Online Learning and Testing platform until we will be able to go back to school."
In addition to the Online Learning and Testing Platform, Digitaliada national platform also includes an extra of 1,000 digital educational resources. Their purpose is to develop and assess the skills of elementary and grammar school students and they are available free of charge to any student, parent or teacher:
The open educational resources are available free of charge, they can be filtered by categories of interest, subject, class, type of lesson and desired difficulty level. In order to make sure they are always up-to-date with the latest materials and resources uploaded onto the platform, more than 2,300 parents, pupils and teachers have set up subscriber accounts over the past week, which allows us to notify them by e-mail, whenever a material corresponding to the class or subject they are interested in is uploaded.
The educational digital hub available at www.digitaliada.ro further comprises the Digital School Guidelines, with recommendations relying on the experience accrued as part of the Digitaliada program between 2016 and 2019, the Interactive Blackboard User's Guide, which also comprises guidelines for teachers on the use of the interactive blackboard in school and 8 guides on teaching grammar school Mathematics and IT&C via digital methods. For the 2019-2020 school year, the Digitaliada team recommends 35 free online digital apps. They aim at developing algorithmic thinking, through IT&C applications, and at promoting logical thinking through Mathematics applications.