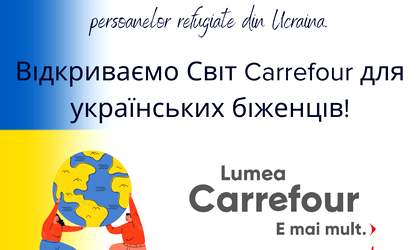 Carrefour Romania announces steps for the integration of Ukrainian people on the labor market, by opening 200 universal commercial worker positions in its network of hypermarkets, supermarkets and Supeco stores, meaning approximately 260 units.
The positions and responsibilities are detailed on the Carrefour website, in the Careers section, as well as on the OLX website and do not require knowledge of Romanian nor English.
The responsibilities of the job include guiding in-store clients and providing commercially attractive store aisles in order to facilitate the buying process for customers. On the other hand, the facilities offered by Carrefour Romania include private medical insurance, meal vouchers, Easter and Christmas coupons, transport assistance, holiday and loyalty bonuses and, last but not least, training and development courses.
The action adds to the company's efforts to contribute to this cause through donations and aid offered to NGOs that take over the cases of Ukrainian people who came to Romania. Since the first week of the conflict, Carrefour Romania has donated 270 tons of food to the Romanian Red Cross and the FARA Foundation.
"Since the first days of the war, companies, people and authorities, all of us mobilized to support those displaced from Ukraine. It is important now to stay focused on what matters most and to continue our efforts to support our neighbors, showing that empathy and caring for each other are stable values and not fleeting emotions. The next step is, from our point of view, the integration into the labor market of those who want to stay in the country, and this can be done in parallel with the humanitarian assistance of those who need it. We invite our Ukrainian friends to discover a diverse, tolerant, high-performing environment in which they will have the right opportunities and tools to define a career to be proud of. This initiative is further proof that the world of Carrefour is a world of people, above all." – said Alina Gamauf, HR, Corporate Affairs & CSR Director of Carrefour Romania.
At the same time, Carrefour Romania continues its humanitarian assistance efforts through the Food Bank (Banca de Alimente) program, developed in partnership with the Romanian Red Cross. Through this initiative, the company directs non-perishable food donated by customers in special collection stations from 41 hypermarkets to the Ukrainian population, both those who enter Romania, regardless of whether they settle here or are in transit, as well to those who remain in Ukraine. Customers can also donate directly from their Act for Good account in the Carrefour application to the Food Bank cause. Each 30 Act for Good points convert into food donated by Carrefour through this initiative.
In addition, another 30 non-governmental organizations involved in support projects for the Ukrainian population that arrived in our country have received direct aid in the form of food and non-food products from 17 Carrefour stores across the country.