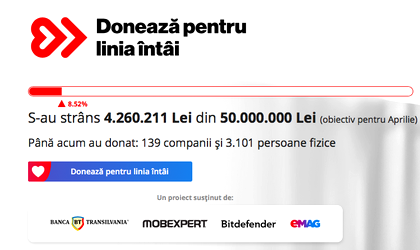 More and more companies help fighting the pandemic in Romania: Banca Transilvania, Mobexpert, Bitdefender and eMAG have recently launched a platform of donations, "Donate for the frontline", which helps doctors and healthcare staff, as well as the Police, the Army and the Gendarmerie. Their aim is to raise RON50 million per month.
Up until now, the four companies donated RON 4 million, but also got involved in procurement, distribution and setting up the donation platform. The official press release mentions that over 40 million masks, gloves, protective coveralls and over two million FFP2 masks have been contracted for "Donate for the frontline". The products are brought weekly in the country on chartered cargo aircraft, including repurposed TAROM aircraft.
The donation platform works closely with  the Department for Emergency Management (DSP), who does the centralisation of the necessary products and based on the demand, the distribution is conducted to those in the frontline all over the country.
Donations can be made online or by bank transfer, following www.emag.ro/donate. The donation platform offers real time information about the donations as well as the beneficiaries and the amount of products given. The aim is to collect monthly donations of 50 million lei. Since Monday official launch of the platform, RON 260.000 have been donated for the frontline.