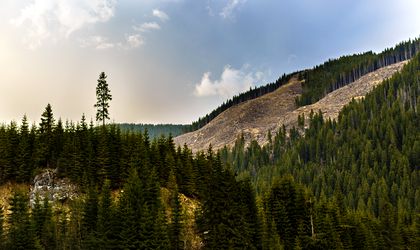 While illegal deforestation is still a huge problem for Romania, today, our forests are on the verge of losing another battle, this time for the allocation of European funds under the PNS (National Strategic Plan). Only 0.46% of the funds are allocated to forest conservation and sustainable management, and NGOs are warning that at least 10% is needed to put into practice what we have undertaken before the European institutions. The decision is up to the Ministry of Agriculture, which has no direct interest in forest conservation, and the Ministry of Environment, to which the forests belong, leaves a gap in this issue.
Romania continues to face problems with illegal deforestation, conservation of valuable forests, and management of protected areas. Although it owns two-thirds of Europe's virgin forests, it seems too uninterested in ensuring the protection of valuable forests. Of the more than 6.5 million hectares of forest in our country, less than 3% are protected against all cutting.
WWF Romania considers that the percentage is too low and must reach a minimum of 10%, as we have assumed before the European institutions. Otherwise, valuable forest ecosystems remain out of protection. Thus, WWF Romania founded a petition requesting state aid in forest conservation efforts.
"This issue concerns us all, whether we work in the wood industry or not, whether we live in rural areas or just come on holiday through the woods. We all need nature, water, fresh air and it is important to take care of the health of the forests. Now is the time to find solutions to a number of issues and needs related to forests, whether we are talking about illegal logging, the destruction of forest habitats, the superior use of timber harvested from forests or the protection of valuable forests. We will not be able to solve these problems without investing in conservation efforts, without compensating owners who are restricted in timber harvesting, without supporting a green and fair transition for local timber-dependent communities. We need support ", says Radu Melu, National Manager of the Forest Department, at WWF Romania.
The necessary reform for sustainable forest management needs resources. Increasing the area of ​​forests, increasing their resilience to climate change or including several forests in the strict protection regime are not just made on paper. It is important to conserve forests and, at the same time, we must offer an alternative to forest owners or local wood-dependent communities. Otherwise, they are "pushed" into a gray or even black area. For the conservation of Romania's forests, funding is needed, because without money, any idea of ​​protection is just a beautiful dream and any strategy remains powerless.
WWF Romania has sounded the alarm in an open letter to the Romanian Government, but it does not seem to be enough. There must be more of us who express our concern. That's why WWF Romania also launched an online petition: The forest means life, help us live! Sign the petition here.