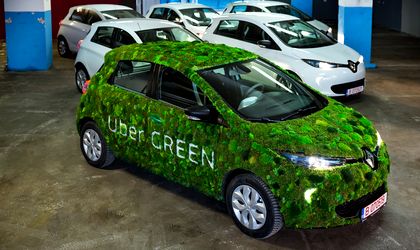 Uber has committed to becoming a zero emissions mobility platform by 2040 across 10,000 cities and six continents, with 100 percent of journeys taking place in zero emission vehicles, public transit and micro-mobility.
European markets are leading the way in the electrification of the ride-hailing industry. By 2025, 50 percent of kilometers driven on Uber's platform in aggregate across seven European capitals (Amsterdam, Berlin, Brussels, Lisbon, London, Madrid, and Paris) will be in zero emission vehicles.
In part, this will be achieved due to the USD 800m available to hundreds of thousands of drivers across Europe, the US, and Canada to help them with the cost of switching to a zero emission vehicle.
Uber will continue the expansion of Uber Green across Europe – where riders can request a lower emission vehicle for a small surcharge – from 37 cities today to 60 cities by the end of 2021, including London and Barcelona. This will mean that riders will be able to select a zero emission vehicle in cities representing 80 percent of our European business by the end of 2021.
In Romania, Uber Green has been available since February 2018. With this service, users can order rides in fully electric vehicles, with an average waiting time of around 8 minutes. So far, more than 225,000 passengers have taken an uber trip in electric cars. In total, they travelled a total distance of almost 3 million km. Another step taken by the company to offer new mobility options was the integration of Lime scooters in the Uber platform. Since July of this year, riders in Bucharest have been able to order a Lime scooter through the Uber app, thus providing them with even more sustainable and affordable transportation options.
"As the largest mobility platform in Europe, we have an important role to play in tackling climate change and supporting a green recovery. With our responsibilities to drivers, riders, and cities in mind, we have made a series of ambitious commitments to help advance the electrification of our platform. As we set out our roadmap to become a zero emission mobility platform by 2040, European countries like Romania will lead the way by delivering impactful changes in the next five years", said Nicoleta Diaconu, Country Manager Uber Romania.
"People across Europe are sick of pollution and congestion. Shared electric mobility is key to solving these problems. And the right place to start is with high-mileage drivers who'll benefit first from cheaper-to-run, clean electric vehicles. Uber's commitment to rapidly electrify its fleet in major European cities is good news. Now it's time for Europe's majors to show leadership. We need all major cities in Europe to introduce zero-emission zones, new pop-up bike lanes and cycle-only corridors, whilst providing easy access to charging, at home, at work and wherever people park", said William Todts, CEO, Transport and Environment (T&E).
Uber has also struck a number of industry-first partnerships to make it easier and more affordable for drivers to switch to zero emission vehicles. For example, Renault-Nissan and Uber have signed a strategic partnership to ensure drivers on the Uber App have access to affordable electric vehicles in many countries across Europe. In the UK, Uber and BP have signed a deal to provide drivers with new dedicated charging hubs in London, while in France, a partnership with EDF will help provide new rapid charging infrastructure and discounts for home-charging installation. In Romania, Uber has also partnered with Volkswagen to help drivers get access to discounts for electric vehicles.
Uber has also published a new report on how to advance the electrification of the ride-hailing market across Europe. 'SPARK! Partnering to electrify in Europe'  examines the barriers that high-kilometer commercial drivers face in electrifying – particularly around charging and affordability – and ways in which Uber, carmakers, charging companies, cities and national policymakers can all work together to overcome them.
"We believe that if private and public bodies work together to create the right conditions, ride-hailing could be electrified in any major European city within 5 years. This could act as a catalyst for change and drive a broader transition to zero emission vehicles across Romania", added Nicoleta Diaconu.