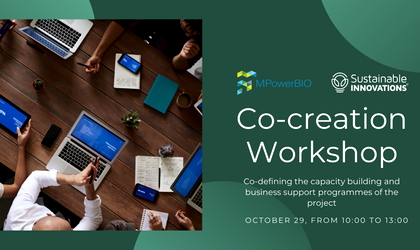 SUSTAINABLE INNOVATIONS, a Spanish consultancy company that provides innovative services to a wide range of sectors throughout Europe: biobased industry, renewable energy, or advanced materials, among others, will host a co-creation workshop on October 29, aiming at defining the Capacity Building programmes for clusters and their Business Support programmes.
The session will be held within the framework of MPOWERBIO, a Bio-Based Industries Joint Undertaking (BBI JU) project under the European Union's Horizon 2020 research and innovation programme. SUSTAINABLE INNOVATIONS is working in this initiative, together with other nine partners, to engage, train and empower bio-based European clusters to help SMEs overcome the difficult task of finding sufficient investment to get from idea to business, the so called valley of death.
The workshop will start with a general overview of the MPOWERBIO, a project aimed at setting up and implementing a capacity building programme for SME clusters along with an integrated business support programme for their SMEs, and then, a presentation showcasing the proposed concepts for the capacity building and business support programmes for clusters and SMEs will follow.
After these introductory speeches, two breakout sessions will take place. Here, the participants will be able to provide their feedback on the programmes presented, and they will be asked as well to help co-create the curriculum concept, key training topics and delivery methods to be used by clusters. Attendees will also contribute to the co-creation of the services to be delivered by clusters through the business support programmes for SMEs.