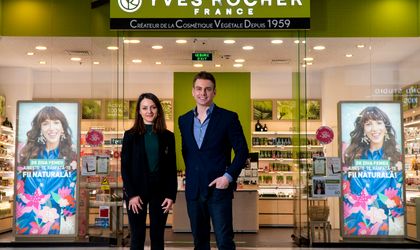 Two companies are joining forces to combat waste in the beauty industry: Romanian impact startup bonapp.eco, launched only four months ago; and Yves Rocher, a global leading cosmetics and beauty brand, has been present in Romania for over 20 years.
To date, six Yves Rocher stores have joined bonapp.eco's network in Bucharest. The partnership will soon be extended to other Yves Rocher shops across Romania. Yves Rocher products that are several months from their expiration date can now be bought in some of the company's stores in Bucharest, with discounts of 60% and above.
"Through our new partnership with Yves Rocher, a company that has 44 shops in Romania, we are expanding our fight against waste to a new category of product – beauty and cosmetics. We are thrilled to help Yves Rocher reduce its surplus products. With this new, exciting partnership, our fast-growing user base can now buy beauty products that are approaching their expiration date, at a discounted price. Whether we're fighting food waste or cosmetics waste, our value proposition remains the same: we are committed to turning the environmental and economic challenges caused by surplus products into a sustainable business opportunity for the benefit of everyone. More than ever, our solution comes as a win for consumers. A win for retailers. And a win for the planet," said Grégoire Vigroux, co-founder of bonapp.eco.
 —
Andreea Ivan, Yves Rocher Romania General Manager, added: "At Yves Rocher, we believe in the positive impact of nature on our well-being. When connected to nature, we contribute to building a world where we are more committed to others and the environment. Now more than ever we need everyone to take action. 100% of our products are designed to reduce the impact on the environment, and we continue to reduce the weight of product packaging (less plastic, less paper). As of October 2020, all our bottles are made of 100% recycled plastic. Our brand's ambition is to be carbon neutral in all activities in La Gacilly, France by 2025. We are the first big international cosmetic company to make such a move. The partnership with bonapp.eco is another important commitment for us, intended to reduce any possible waste of surplus products."
Just four months after its launch, bonapp.eco's app has been downloaded by over 30,000 users. To date, the startup has sold over 3,000 meals in Bucharest.
Available on iOS and Android, bonapp.eco is a mobile app that combats waste. Through it, consumers save between 40% and 80% when purchasing food and, from now on – beauty products as well. More than 150 partners are currently affiliated with bonapp.eco: mostly grocery stores, restaurants, gas stations, bakeries, coffee shops, hotels, and beauty shops.
Romanian startup bonapp.eco was launched in November 2021. Just two months later, the startup raised a seed investment of 800,000 EUR to expand beyond Bucharest. The company is currently hiring sales teams, as well as City Managers, in Cluj, Timisoara, and Iasi, while the Eastern European roll-out will start later this year.