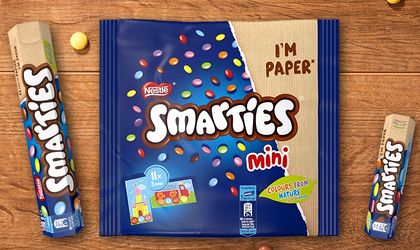 Nestlé announced today that its popular Smarties brand is now using recyclable paper packaging for its confectionery products worldwide. Smarties is the first global confectionery brand to switch to 100% recyclable paper packaging, removing approximately 250 million plastic packs sold globally every year.
"Shifting Smarties packaging to recyclable paper is one of our key sustainable packaging initiatives in the confectionery category. It is a further step in realizing Nestlé's ambition to make all of its packaging recyclable or reusable by 2025 and to reduce its use of virgin plastics by one third in the same period.", said Alexander von Maillot, Global Head of Confectionery Nestlé.
The new Smarties paper packaging is sourced sustainably and is made of a coated paper, paper labels or carton board. Information about how to properly dispose of Smarties paper packaging is also included on its labels to raise consumer awareness. In Romania, the Smarties product portfolio consists of Smarties tube 38g, Smarties tube 130g and Smarties Mini 158g.
"Nestlé's initiative to use exclusively recyclable paper packaging for the entire Smarties range globally represents further evidence of the company's commitment to addressing the packaging waste problem in all countries where the company operates, thus contributing to the development of a sustainable future. The company has ambitious plans for the entire confectionery portfolio, but we wanted to start, symbolically, with a brand designed for children. Nestlé wants its products to be both tasty and healthy and better for the environment. Thus, the transition of the entire global Smarties portfolio to 100% recyclable paper packaging is a step that the company takes for a sustainable future and also an invitation to consumers to take part in this process.", said Silvia Sticlea, Business Executive Officer Confectionery & Dairy South East Market Nestlé.
—
"Developing safe and convenient paper-based solutions for Smarties has required an innovation regarding new materials. These have been tested by the company's packaging experts at our research and development center – Nestlé Institute of Packaging Sciences in Switzerland. At the same time, we adapted our existing manufacturing lines to allow for the careful handling that is required for paper, resulting in the new sustainable packaging for Smarties products.", said Louise Barrett, Head of Nestlé Confectionery Product Technology Centre in York.
Smarties is a product specially created for children, easy to portion, made with carefully selected chocolate, with cocoa from 100% sustainable sources. Each Smarties candy is colored using natural ingredients such as spirulina, lemon, radish, hibiscus, black carrot and saffron. The playful design of Smarties products is designed to help develop children's creativity and imagination. At the same time, the new recyclable paper packaging is an invitation for consumers – on one hand to enjoy the product, and on the other hand to act responsibly in small daily actions, such as recycling packaging in specific places.