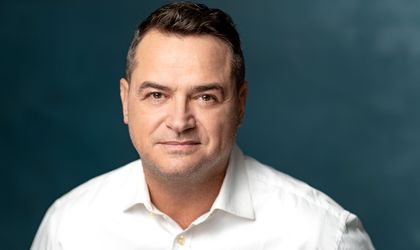 Since January 2020, McDonald's has run the Better M programme through which the company carried out a series of local actions with the aim of replacing plastic packaging with more environmentally friendly alternatives. Thus, McDonald's Romania aligns to the company global commitment that, by 2025, the packaging intended for customers in all its restaurants will be 100% produced from renewable, recycled or certified sources. To find out more about the company's sustainability projects and CSR involvement, Business Review talked to Paul Drăgan, Managing Director, Premier Restaurants Romania (DL for McDonald's Romania), in a new exclusive #GREENRESTART interview.
What are McDonald's Romania's main directions and objectives in terms of environment?
At McDonald's, our actions are guided by a set of values focusing on our purpose of feeding and fostering communities, with the goal to contribute to building a better future. Environment responsibility is also among our key priorities with ambitious goals set for our objectives in this area. We have a commitment on acting in a sustainable way, both from McDonald's and our partners along the value chain.
In line with our commitments and values, we have launched Better M platform, to reduce plastic usage in our restaurants and improve recyclability in packaging. Our objective is to have all guest packaging made from 100% renewable, recycled or certified sources in all our restaurants, globally, by 2025. In Romania, we have aligned to this commitment and already started to rollout new environment friendly packaging for a range of products.
What environment projects have you concentrated on in the past year and what impact did they have?
In the last year, we focused our efforts on showcasing new sustainable guest packaging for our products to contribute to the achievement of the global goal. We already see encouraging results through the packaging solutions that have been rolled out locally, as part of the Better M platform. At this moment, in Europe, 88% of guest packaging is made of recycled and certified resources. In Romania, these initiatives will help us to minimise the usage of plastic in our restaurants with 120 tons this year alone.
On top of packaging, we also implement measures to streamline energy consumption or use of alternative resources. Therefore, the energy consumed by our company in Romania decreased in 2020 compared to 2019 and, at the same time, we have designed a strategy with our local suppliers to carry out logistics operations with the smallest possible environmental footprint.
What can you tell us about involving our communities, together with McDonald's Romania, in protecting the environment, as a collective effort for a better future?
We strongly believe in the power of example, and we believe is McDonald's duty to our customers to be a brand that strives for sustainability. We know that a better environment is possible only through our shared efforts (companies, communities, authorities, and the civil society). This is why, Better M is built on the principle of shared effort. It starts from our sustainability actions and moves towards the small steps we can all take together, in our communities, for a more sustainable future. We are aware that the results don't come overnight, and we all need to contribute consistently. So, we invited the members of our communities to take their own small steps and change their habits so that we can protect the environment, together.
What are the most efficient methods to educate the population in having a more responsible behaviour towards the environment, in the long term?
I strongly believe that everything starts with the power of example. We have noticed in the past years that consumers' habits are changing and that many of them prefer the brands that have an actual impact and generate change in their communities. That is why, it is important for people to have models they can follow, to be informed about the need of shared action towards a common goal. Thus, through all these initiatives, McDonald's takes the first steps and wants to be an example and a source of inspiration for our customers. They can shift their habits if we offer them alternative solutions that motivate them. For example, an action they can take is to not request the straw when they get a drink alongside their favourite McDonald's products, thus reducing the total waste in circulation
What are your future plans for McDonald's Romania's environment strategy?
In Romania, McDonald's stays committed to testing and implementing the best solutions for packaging with the aim to drive environmentally positive changes while we maintain the products standards and customer experience.
What can you tell us about the Better M program and how is it applied in Romania?
Taking care of environment is important to us. And the Better M platform was initiated to showcase McDonald's investments and improvements in sustainable packaging. By rethinking the guest packaging to reduce and minimise the plastic usage in our restaurants. And we are proud to say that we already made steps and a big progress so far. But we also know that there's even more to do. In Romania, we started last year, by replacing McFlurry ice cream packaging with a cardboard one, without a plastic lid. Further, we launched the "Straw on demand" initiative, through which the plastic straws for our beverages were offered only if customers requested them. In February this year, we replaced the plastic straws with new ones, biodegradable and compostable, still offered only on request. Our sustainable packaging range did not stop here. Starting in May – June this year, salads are served in new cardboard packaging, along with wooden cutlery across all McDonald's restaurants. Gradually, these steps will become even bigger. And for this year, we are also planning to replace McSundae packaging with a new and sustainable one.
Which are the main pillars of McDonald's Romania's CSR strategy at this moment and what CSR projects have you implemented so far at McDonald's Romania?
Driving positive impact in the surrounding communities and environment sustainability are two areas towards we are focusing our CSR initiatives. We have the initiatives from Better M platform, projects dedicated to supporting communities and Ronald McDonalds House Charities actions.
The pandemic context turned our reality upside down and we wanted to remain close to those in need, providing support with every occasion. We have great respect and gratitude for the frontline workers. That is why, a part of our initiatives were directed towards medical institutions and medical staff, in the lockdown and throughout 2020. This year, we partnered with the Foundation for SMURD and 14,000 menus were offered to 19 medical centres across country. At the same time, we also showed our gratitude to the teachers with a free coffee on the house when they were back to schools after a time with only online classes.
We were also close to Ronald McDonald House Charities during the last year fundraising campaign dedicated to the third house they build in Romania, Ronald House in Iasi. Over 1.6 million lei were raised through donations from our customers and our partners.
What can you tell us about the internal CSR projects carried out for McDonald's Romania employees? What are the directions you see for CSR initiatives in Romania for the next years, and how much do you think the current pandemic crisis has changed the business solidarity concept in Romania?
Last year was the year when we truly learned the importance of a strong, united team, made of people who can support each other when needed. Family is one of our core values. And their safety is our main priority. Our internal initiatives were built around safety by introducing additional measures for our colleagues in the pandemic context. More than that, they are also an important part of our sustainability initiatives as ambassadors. Hundred of thousands of Romanians had safe meals with their help because they are the first contact with our customers.
The pandemic faced us with a new reality, and we will continue to see brands focusing their efforts on initiatives that generate a change in the communities in which they operate. The care for our surroundings is our priority because we know there's a difference between being in a community and being part of one. I already see how brands in different industries focus more on their sustainable impact and this will continue to be a trend in the next year.
On top of this, these difficult times were all about solidarity. Private companies, authorities and citizens joined forces to respond to those who needed help during this time: communities or small businesses. And is important for this to continue in the future.