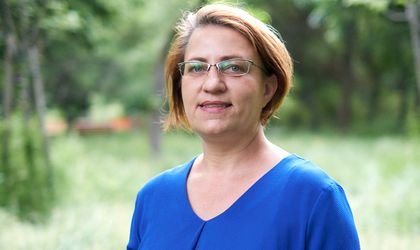 Romania has an acute need for education, in previous years, studies showed that functional illiteracy is present at a level of 42% in Romania. This high percentage translates into a social degradation, which directly means a degradation of nature. Romanian NGOs are fighting hard to prepare future adults to create a sustainable living environment that restores the initial characteristics of nature, and so does WWF through its programs. To find out more, Business Review talked to Orieta Hulea, the Director of WWF Romania and Professional Biologist (PhD in Biological Sciences) with over 19 years of experience in nature conservation and management.
Business Review: WWF is 60 years old globally and 15 years old in Romania. How do you see the evolution of the ecological behavior of young people?
Orieta Hulea: It is encouraging to see how environmental movements, exposure to environmental information, engagement through education and volunteering programs are empowering and motivating more and more young people to become active citizens for the planet. This trend has to be strengthened and amplified.
BR: What programs do you have at the moment that can help young people understand the importance of protecting nature?
OH: The Climate Heroes project: Youth Voices for Sustainable Living, training and mentoring young people to become active leaders for climate change solutions. The youth joining the training will be empowered to develop concrete actions to stop climate change.
BR: How attractive are youth volunteering programs?
OH: Volunteering programs like Education for Sustainable Development at WWF develops youths' knowledge of environmental challenges, their abilities to promote sustainable development through independent thinking, to formulate and solve problems, to participate in democratic systems and to take responsibility for the well-being of our planet.
From sustainable food and water consumption, to eco-communities, and renewable energy, find out more about Romania's #GreenRestart at BR's Environmental & Sustainability Summit, September 28-29 at JW Marriott Bucharest Grand Hotel. Join the physical event HERE!
BR: Young people represent the future. How important is the ecological mentality of young people at the time of employment?
OH: The future of the planet is in the hands of the young generations. A good understanding of ecological and environmental issues motivates young people to apply the principle of sustainability to their everyday activities and decisions and inspire others to do the same.
BR: Volunteering is a valuable step in the education of young people, but also of future employers. What efforts and resources should a company invest in building an ecological mentality for new employees?
OH: Besides encouraging employees to take actions for the environment by engaging them in day-to-day corporate sustainability efforts, companies should collaborate with partners (e.g. NGOs, educational institutions) to advance education for sustainable development and connect it to job skills and career paths.
BR: How eager are companies to invest in educational programs for young people, who will later become their employees?
OH: There is a growing interest of companies to support environmental educational programmes but the need is high and companies should invest more. Adequate environmental education can boost the youth's interest in sustainability and build knowledge and awareness of environmental issues and potential solutions.
BR: What are your plans for the next few years, both locally and internationally?
OH: Globally and locally, we will continue developing Education for Sustainable Development programmes, including formal and non-formal education on biodiversity conservation, climate change, sustainable use of natural resources, as part of specific conservation projects or youth engagement initiatives.
Sir Peter Scott, founder of WWF said: "The most important task, if we want to save the Earth, is to educate."