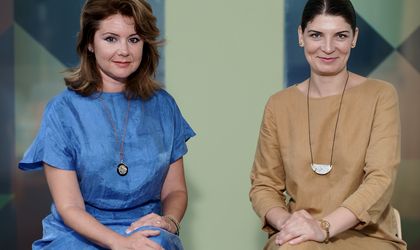 A rapidly growing niche, the Romanian circular economy startup scene has seen some very interesting ideas over the past year. Having already drawn EUR 70,000 worth of investments, and currently finalizing a new investment round of EUR 150,000, the circular economy platform R-CREATE is definitely one of the stars of this growing industry. To find out more about the concept and the efforts of those involved in the project, BR talked to Linda Vasilescu (co-founder and CEO – photo left) and Adina Huma (co-founder and Marketing Director – photo right), the two women behind R-CREATE.
BR: First things first, introduce us to the R-CREATE concept. How did you come up with the idea and how does it work in practice?
R-CREATE: We created our concept as a response to the effects we see of the exponential growth of e-commerce on a global level: there is a clear shift from classic retail to online sales, thus the problems brought by consumption and its effects on environment move from offline to online. Also we noticed there is a growing concern of the public regarding these effects. First topic we touched is the packaging: we are offering to the online stores the first solution that allows them to move from linear consumption flows to circular, through our package-as-a-service offer: instead of classical package-to-garbage, they can pack the deliveries in our reusable packaging, that is sent back on the retour courier flows, ready for another delivery. This new way of doing packaging will bring them numerous operational benefits, that will crystalize in cheaper operations. The first solution we developed in this regard- the R-CREATE bag, that can be used up to 25 logistic cycles.
BR: How was the idea of a circular economy platform received by both investors, and customers?
R-CREATE: We need to make an observation here: our service targets B2B market (retailers) but is used by the e-shopper, so in that sense we need to understand positions of both B2B and B2C.
B2C (e-shoppers) have embraced immediately the functionality we offer to them, as there is a growing frustration regarding overpackaging.
B2B (retail and investors) are beginning to understand the value added of our concept, as the traction within the B2C consumer base increases. In our test this summer we have obtained a very good organic adoption rate: more than 20% of the e-shoppers from Carturesti online have chosen the R-Create reusable packaging, and the feedbacks were excellent.
But for both types of public there is a lot of communication and education that needs to be made: as there was no other option in the past, consumers need to be conscious that single usage package from online deliveries is a problem they have to handle, not an asset.
BR: How will the entire chain work?
R-CREATE: The logic behind the operational chain we created is based on the circular economy concept: increase the efficiency of existing resources. The reusable packaging is taken back on spot within the delivery last mile and is further consolidated on the way back to the retailer. We will introduce in the future other return possibilities, that offer maximum convenience to the e-shopper: collection points and home pick up, together with the next delivery. All options have one thing in common: there is no extra mile, no additional carbon emission caused by our flows, as they just integrate within the planned routes.
BR: What can you tell us about the actual products? What are they made of, how sustainable they are and how much will they help in reducing the carbon footprint?
R-CREATE: As mentioned before, we have already created the R-CREATE bag, but this is just one of the many solutions for packaging online stores have, based on the type of product they send (anti-shock, bespoke design, increased security though sealing, location tracking, etc).
This basic solution is made from cradle-to-cradle recycled polypropylene and its sustainability is streaming from two features: reusage implies the conservation of the crude oil or wood resource, used otherwise for the production of single usage packaging, and a design which allows for very compact packaging, therefore less air transported, and more efficient deliveries with the existing fleet capacity.
We estimate that by the time we will reach our expected market share, we would be able to reduce CO2 emissions with more that 500 t/year, according to the Life Cycle Assessment study we conducted.
BR: What is the current stage of development for the platform and what are your next steps for it?
R-CREATE: Unlike other tech startups, we preferred to start our work by understanding our customers (the online stores) and their needs, rather than create first the digital tool. Therefore, in 2020 we focused on testing the physical functionality, that of a package which is used multiple times which has to comply with the supply chain constrains (mechanical processes, automated steps etc) and be adopted by the consumer. Now that we passed this stage and gathered our data, we will proceed further to the development of the digital platform, that will convey additional benefits on simplifying the administration of the logistic processes to the online stores, and will help us scale our business up.
In one-year time, we estimate each online store can access the range of reusable packaging we will have in place, through a simple login in our platform.
BR: What kind of investments have you attracted so far and what investments are you planning to attract in the near future?
R-CREATE: We have started with a prize of EUR 25.000 from Pepsi, as the best rated startup in the Reuse Hub incubator organized by Impact Hub, and the rest of the investment needed to carry us through 2019 and 2020 we got through bootstrapping. We are now finalizing our first investment round of EUR 150.000, and plan a series A funding, in order to scale further on a European level.
BR: When do you think the platform will be ready to launch? Are you also planning to release a beta version so that early users could test it?
R-CREATE: We estimate to have our platform ready with the basic functionalities within 2021, with beta versions available on the way. We already work with a number of big e-commerce stores as test customers, so that what we create is already incorporating their needs.
BR: How will users registered on R-CREATE interact with the platform?
R-CREATE: Our platform is already designed in order to integrate with all automated tools an e-commerce store is using, therefore manual interactions will be minimized. The initial input from the user will be important, where besides company data there will be a forecast of sales in reusable packaging, based on which we will send the necessary stock. Further on the platform will keep track of the dynamics of the stock, based on the input from courier, postal services and collection points operators, and therefore will be able to supply each moment with a snapshot of current status.
BR: How will R-CREATE be integrated with other e-commerce platforms?
R-CREATE: We are discussing already with software companies that are already working with e-commerce businesses listed on several platforms, so we will start integrating with them. We are fairly lucky that the Romanian e-commerce ecosystem is relatively rich, so we are just building on that for our use case.
BR: What can you tell us about R-CREATE's short and long term goals and strategies?
R-CREATE: As a consequence, 2021 means the development of our digital platform and the acquisition of a few relevant accounts for each of the verticals we focus on, that will help us create the right solution for the respective vertical, both in terms of how the physical reusable package should look like and test the usability of our digital system.
As next steps we will add additional features to our platform, such as RFid tracking for a good delivery prediction or different types of return analytics. Further on we are exploring the possibility of expanding our offer into other parts of the e-commerce supply chain, such as zero waste delivery, with minimized CO2 emissions.
BR: What can you tell us about the marketing strategies you are planning for R-CREATE?
R-CREATE: Our marketing strategies are focusing both on B2C, educating consumers on the advantages of a sustainable consumption, but also on B2B (on line stores), to which we are communicating the increased efficiency brought to their operations by our solution.
BR: What type of online retailers is R-CREATE addressed to?
R-CREATE: Our solution makes sense for any type of e-commerce player, disregarding its size. We are selling package-as-a-service, meaning we are charging a fee each time a package is used, to a price comparable to single usage packaging. This means our pricing scheme is harmonized with already available options in single packaging for the respective size. Our early adopters are companies that are targeting already the "green" customer base, but this is just because the topic of circular economy is fairly new. Within the next years, in the context of European legislative changes, aiming to reduce the production of disposable packaging and promote reusable solutions, R-CREATE opens new horizons for the Romanian market. We are blocked for too long in the use of disposable plastic and cardboard packaging, and through this solution we aim to contribute to a new trend and facilitate transition towards sustainable economy that will soon become the norm.
BR: Are you planning to expand into foreign markets at some point?
R-CREATE: We are looking at the Romanian market as a sandbox for creating a robust-enough product, but our medium term target is the European market where the awareness on its benefits is higher. We are already in contact with European e-commerce players that dedicated significant resources to finding actionable circular economy solutions as their consumers request that.
In Western Europe, startups are developing solutions as we speak. Compared to those solutions though, focused on the physical package, we want to position ourselves as a platform, an integrator, which offers all benefits through one access point.