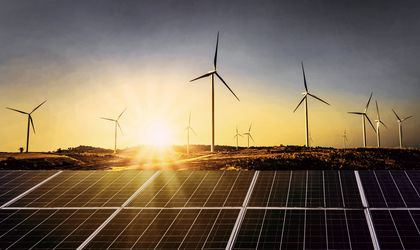 The recent rise in the prices of oil, gas, and power has shown us how vulnerable we all are in the face of disruptions on the energy market and how important it is to have sustainable energy production and consumption. The industry needs new investments in green energy projects to prepare the electric grid of the future, which should be able to support large-scale charging infrastructure for electric vehicles, while companies need to adopt sustainable practices and build better waste management systems. All these crucial topics were covered at Business Review's Environmental & Sustainability Summit, a Zero Emissions event organised with the support of FEPRA.
By Aurel Constantin
"The Romanian energy sector is in the middle of a complex transition period, which is why I consider 'stable' to be a relative term, and I think 'evolving' would be more appropriate. To meet environmental targets and the needs of the economy, our energy sector must accelerate its transition to more sustainable production sources, better software integration, and smart grid development. These elements will provide more energy and autonomy for Romania in the future," said Valentin Bargau, Chief Investment Officer at Restart Energy. There is a lot of interest in renewable energy projects in Romania right now. The trend has accelerated over the last year and a half and it is expected to go even further due to US and European green initiatives. "In line with this trend, Restart has around 550 MW's worth of solar projects in various stages of development and we will begin activating them next year," Bargau added. The transformation of the Romanian energy sector may cause social issues, as some people could lose their jobs or be forced to find new ones. Nevertheless, the transition to greener power production systems will happen, with the help of European funds.
"The energy transition will be a long process, and it will not be easy. And if things aren't done in the proper way, it could also be very painful. I see three challenges that need to be addressed: funding, social issues, and technological barriers. When it comes to funding, the energy transition (like any other transition) comes with a cost. For the Romanian economy, which is dealing with significant budget imbalances, getting the money will be a real challenge. But at the same time, we have a great opportunity: about EUR 80 billion are waiting for us in Brussels and our only job is to take this money and use it correctly," said Catalin Velescu, General Manager & Founder at Volta Grup.
If Romania manages to tap into these European funds, about EUR 10 billion – or 5 percent of GDP – will be available every year. But we have to move fast to develop projects that are aligned with the EU objectives outlined in the Green Deal and Fit for 55 plans. "The best news is that yes, we have the technologies to reach 100 percent green electricity. And what's more, they are becoming cheaper and cheaper. We have always believed that clean energy was more expensive than 'dirty' energy. We have wind, solar power, geothermal, biofuels, hydropower, storage, and, of course, hydrogen. The more we use these technologies, the cheaper they will become," Velescu explained.
"The prices of wind and solar power have declined exponentially, to levels that nobody had anticipated. Since 2010, these prices have fallen by 90 percent, and the process will continue. Today, solar and wind are the cheapest ways to produce energy in new capacities almost everywhere in the world. From Mexico to Chile, from the UK to Spain, we've seen bids of 2 cents/kwh for solar and wind energy generation," the Volta Grup representative added.
But we are still experiencing increases in electricity prices. "We expect the price of electricity to remain volatile, so it is difficult to make an accurate prediction, but I believe that the price of energy in general will continue to grow, due to various factors – political, economic, and geopolitical. It is time for us to realise that the green transition has a cost and that this cost will be reflected by future energy prices," Velescu argued.
"Europe's goal of becoming the first carbon neutral continent by 2050 requires a huge effort from the business environment, public authorities, and the financial system, through a holistic and collaborative approach. In this equation, the role of banks is essential if we take into account the fact that addressing the risks of climate change alone, requires a volume of  public and private investment of about EUR 60 billion over the next 10 years,in Romania," Iuliana Tiba, BRD – Groupe Societe Generale
Renewable energy projects
The importance of renewable energy projects has never been higher, as they could allow us to no longer depend on natural gas imports or prices. "These projects (including hydro projects) are crucial to the sustainable energy transition. In 2020, renewables accounted 24 percent of Romania's total energy consumption, and the government has set a 30.7 percent target for 2030. This can be achieved through a further development of renewable energy sources, up to a total installed capacity of 7 GW," said Elena Vlasceanu, Counsel at Dentons.
"At the same time, in order to achieve fully green power production, there are a number of technical challenges to overcome (not only in Romania's case, but also in highly developed countries like Germany), one being the balancing of the National Electricity Grid. But in order to reach such target, the grid has to be refurbished and upgraded to a smart grid, while the fluctuating power production from RES  (Renewable Energy Sources) should be stored or somehow balanced in order to match the stability of conventional sources. The storage of green energy in batteries or other storage solutions is also a path to the future. Until these problems are solved, the EU aims to use gas and nuclear power as transitory sources, as they pollute less than other conventional sources such as coal and oil," Vlasceanu explained.
The development of green energy projects also needs to be analysed in the context of the European Green Deal, which aims to transform the EU into the first climate neutral continent by 2055.
"Hydrogen should also rise as a worthy power source, with stability being its biggest advantage. During the last years, the debates on the use of hydrogen have evolved considerably, and the connection between hydrogen and renewable energy has been put into a broad context. To this extent, it is known that hydrogen may lead to the growth of the renewable energy market and boost the discovery of renewable solutions. There are various ways to ensure the supply of clean hydrogen, but Romania currently lacks a regulatory framework regarding the use of hydrogen in electricity production. According to its Recovery and Resilience Plan, Romania intends to develop a National Strategy for Hydrogen, based on which the legislation required for investments in this field would be enacted," Vlasceanu said.
Meeting new CO2 standards
The European Union is planning a significant reduction in CO2 levels for the coming years, but it will not reach its targets easily. "The EU has done pretty well so far, having met its previous target (i.e. -20 percent by 2020) ahead of schedule. The Union's estimates indicated a 32 percent reduction by 2030 based on current and planned reduction measures, which is clearly not enough if it wants to achieve a 55 percent reduction. This will require additional efforts and resources and more significant changes in the transport and other difficult-to-abate sectors. However, considering what has been achieved so far and the commitment demonstrated by the European Commission and Parliament so far, we can be reasonably confident that the EU has a good chance to achieve its more ambitious targets," explained Massimo Bettanin, Partner at EY Climate Change & Sustainability Services in Central and Eastern Europe.
"Romania is in a very good position to achieve its CO2 targets. As per the Integrated National Energy and Climate Plan, a 50 percent reduction compared to 1990 levels is targeted by 2030 (page 49). This plan was approved before the Green Deal, at 10 percent above the EU's initial 40 percent target, and it will need to be updated to match the Green Deal. Also, Romania is among the EU countries that depend most on coal/lignite for electricity production. Phasing out lignite has significantly contributed towards CO2 reduction and will continue to do so. The recently approved Recovery and Resilience Fund has clear milestones for phasing out lignite," said Bettanin.
Financing green projects
The transition will need to be carried out at the company level. Turning into a sustainable business, which includes economic, environmental, and social objectives, involves a process of internal transformation that includes rethinking relationships with suppliers and consumers, making customers aware of the need for an efficient use of natural resources, a reduction of the ecological footprint, as well as accounting for potential changes in consumers' preferences and demands.
"It may involve investments in innovation, new technologies, in the acquisition or development of new skills or support services for defining transition strategies or compliance with new requirements. All this generates cost for the company, but long-term commitments may be reflected in cost reductions (due to low consumption of natural resources or low prices), the emergence of new sources of income (e.g. from the recovery of waste or by-products, the creation of industrial symbioses, etc.), the penetration of new market segments or geographical areas or obtaining a competitive advantage and better positioning on the market. It is difficult to quantify the costs associated with an organisational transition towards a sustainability agenda, but there are certainly benefits for a company that adopts such a model," said Iuliana Tiba, Environmental, Social, and Positive Impact Financing Director at BRD Groupe Societe Generale.
According to Tiba, research has shown that reducing "cost-to-impact" leads to increased profitability, stronger resilience, and higher financial attractiveness. Worldwide, ESG (Environmental, Social & Governance)-focused companies have not only seen higher returns, but stronger earnings growth, dividends, and recognition from their customers and consumers. Moreover, in the long run, it is also a question of survival for many businesses, in the context of an expected transition to a green and inclusive economy.
"Banks are ready to finance responsible companies or projects. Europe's goal of becoming the first carbon neutral continent by 2050 requires a huge effort from the business environment, public authorities, and the financial system, through a holistic and collaborative approach. In this equation, the role of banks is essential if we take into account the fact that addressing the risks of climate change alone, according to a recent report on green financing from the National Committee for Macroprudential Oversight, requires a volume of public and private investment of about EUR 60 billion over the next 10 years, in Romania. Our role is to participate in this economic effort, design new financial products, finance businesses that are meeting requirements, but also disseminate good practices and accompany our clients in this process of transformation. Activity in this area is still in the early stages, and there are also big challenges ahead for both banks and companies," said Iuliana Tiba.
Commercial banks are providing financing solutions for sustainable businesses and, according to ING Bank, clients' openness can be demonstrated by the high number of financing deals closed in the first 6 months of the year. "There is certainly an appetite, and the demand can only grow from here. In the first 6 months of 2021, we brokered 133 sustainable deals at the group level, more than we brokered over the whole of 2020," said Claudiu Sabau, Head of Client Coverage at ING Bank Romania.
Sustainability was seen as rather "exotic" until recently, but lately it has become a recurring topic in talks with clients. "To provide an analogy, we can think of a high speed train that has just left the station and it's starting to accelerate, but it's going to take some time before it reaches cruising speed. Companies that don't take this seriously may find themselves in the unfortunate situation of no longer being able to finance projects or refinance existing debt on their balance sheet a few years from now. Sustainability is not something that happens overnight and it's not always black or white, as certain sectors will be impacted more than others. At ING we strongly believe in a collaborative approach where we stay close to our clients, we provide constant advice, and facilitate their transition to a less carbon-intensive business model through the financing we provide," Claudiu Sabau explained.
Stopping resource waste
Big changes are underway, being driven by both European authorities and by consumers wanting to be more environmentally-friendly. "We've built up an economy using oil & gas and natural resources and promoting unlimited consumption. The period we are entering, however, is one when we are becoming aware of the fact that resources are finite," said Gus Schellekens, Partner and Head of Sustainability for EY Climate Change & Sustainability Services at EY Romania.
"Consumer attitudes will change attitudes among economic operators. It may seem like a small thing, but it is very important" said Ana Radnev, Head of Finance at CMS Romania. But change will not come easy. "We're in a paradigm where we're trying the same things that haven't worked for the last 20 years. We keep hoping that local authorities will start seeing the world differently overnight, that they'll build a separate waste collection infrastructure overnight, that they'll begin to access European funds that are no longer available," argued Ionut Georgescu, CEO at FEPRA.
"At the moment, I think that Romania just needs a bit of will – and when I say will, I am referring to entrepreneurship. There are companies that want to see more than what is happening right now and I think that at this time, Romanian entrepreneurs should imagine a system in which we, as corporations and as entrepreneurs, could get in direct contact with citizens who are both consumers and waste generators and try to redesign our waste management practices," he added.
Romania is lucky to be a member of the European Union, which is pushing us towards sustainability and a circular economy. "The best indicator is the way Romanian citizens see the circular economy and address environmental and social issues in this area. Last year, FEPRA and ISOP conducted a study to find out how citizens perceived certain market realities, and it turned out to be a very interesting study, albeit a bit difficult to understand. It was about 200 pages of analysis on demographics and other indicators, but the result was overwhelming," Georgescu said. In recent years, issues like waste management, clean air, and green cities have started to attract a lot of interest from citizens, many of whom are looking to get more involved. "This study showed us that citizens were actively involved, and not just at a theoretical level. One of the questions was whether Romanians were willing to pay more for certain products that are indeed sustainable, organic, green, and a large share of respondents said yes. There's still a long way to go from saying you'd do something to actually doing it, but we're starting to see more and more products on supermarket shelves that are organic, have reusable packaging, use less plastic or more glass. And the more such products appear on the shelves, the more consumers will be demanding them," the FEPRA CEO argued.
"There's another important thing to note here, which Romanians need to understand as well. What are the real costs of a product? Are all costs included in the products we buy? The answer is categorically no! If we took into account all the costs and environmental impact of a product, we would better understand the impact of our consumption – a cup of coffee is a very good example for this exercise. Dozens of litres of water are consumed for a small cup of coffee. Water is used for irrigation, by people picking the coffee beans, in the washing process, in the production process, and so on. It all adds up to dozens of litres for a single cup of coffee. Hundreds of litres for a T-shirt, hundreds of litres for a piece of meat," Georgescu noted.
Photo: dreamstime.com