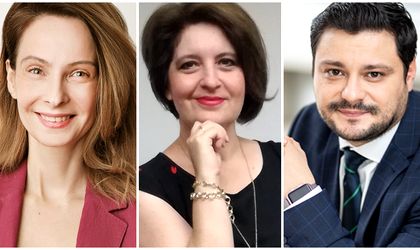 BR's recent Working Romania HR Conference was once again filled with top professionals and their powerful opinions made the 4+ hours of the event seem not long enough for such an all-star speaker roster. Before the conference, Business Review called upon on you to send us your questions for the Q&A sessions, but since during the live broadcast, being limited in time, we couldn't feature the intriguing queries received from the audience, the speakers happily accepted to answer post-event for a special editorial project! In this first part, Veronica Cristea-Nanu, Senior HR Manager at Huawei, Doina Filip, Head of Reward at Orange, and Cătălin Roman, Senior Associate at Noerr, accepted the challenge to take on some of the questions received from the audience.
Veronica Cristea-Nanu, Senior HR Manager | Huawei
Lupu Andreia: Which skills would be important in the current context?
Veronica Cristea-Nanu: From our point of view, in this era of digital transformation, remote working and reshaping of industrial relations, we estimate that each industry will naturally focus on the acquisition or development of skills to support the business both from the B2B and B2C perspectives. For Huawei, a leading global provider of information and communications technology (ICT) infrastructure and smart devices, the desirable top 3 skills for the near future are analytical thinking, lifelong learning ability and self-management ability.
These 3 skills altogether will be able to support the employees to do their job better and faster, in a way that will please them. It will increase the satisfaction of work and its sense of purpose, as well as the sense of belonging to an organization or community where the job is performed with passion and responsibility. Increase job satisfaction is on the HR priority list and we encourage all Huawei staffers to follow their inner passions and hobbies. This is an invaluable source of creativity which fuels the much-needed effervescence in this newly emerging way of doing business.
Andrei Voica, Head of Workplace Advisory and Project Management at Avison Young | Romania: Some companies had already begun to embrace flexible work before the pandemic began, allowing employees to distribute their schedule between the office or other remote / home locations. This has been seen by many employers as an effective tool for attracting and retaining employees. Do you think that most employees, who previously did not have access to this type of benefits, will start to express their expectations regarding flexible work, health and safety at work, respectively an improved integration of personal and professional life? What solutions have companies started to prepare for these new expectations?
Veronica Cristea-Nanu: In the new context driven by the pandemic-related measures and the growing rate of technological adoption, all members of the working community share similar goals: ensure business continuity, shift towards increasingly efficient business scenarios, preserve employees' health and safety. All this incurs a higher degree of flexibility compared to previous years. As the market practices evolve towards a new standard in work relations, the employees themselves are subject to a new mindset and openly express their expectations, proposals and concerns.
Huawei holds monthly meetings between the CEO and employees, creating a space where these ideas are openly discussed. We have adopted a step-by-step approach, placing employees' health, safety and emotional security as a priority. Currently 90% of the employees work remotely while 10% of the employees work from the office, by rotation, according to the business needs. We have all instruments in place which allow us to effectively conduct the business, working in a hybrid system, in an efficient and secure manner. Current steps include preparation of different working scenarios, according to the business needs. The main guiding principles are business continuity, preserving flexibility and health, as well as constant communication and dialogue.
Huawei provides constant support to the organization via dedicated employee care programs, aimed at supporting employees to overcome stress and uncertainty: specialized interventions on stress management, vaccination, current prevention measures, nutrition, posture alignment and even more relaxing topics, such as personal styling. More programs will be made available, while keeping a close eye on the organizational vibe.
Doina Filip, Head of Reward ∣ ORANGE
Andrei Voica, Head of Workplace Advisory and Project Management at Avison Young | Romania: COVID-19 has shown that flexible work is feasible, practical and increasingly desirable. At the same time, the workplace provides employees with a physical space for connection, collaboration and teamwork. Therefore, as employees begin to return to the so-called "New Normal" in their work environment, how does your company approach the understanding of new expectations of physical, emotional, and technological safety?
Doina Filip: Any designing of "returning to new WOW" should be created and validated with employees; it's recommended to use "team pilots", collect feedback and then define the final end state; payroll time sheet to be aligned to hybrid work (legal requirements), dedicated platform for "on site presence / parking" considered, wellbeing / healthy organization policy redesigned.
Andrei Voica, Head of Workplace Advisory and Project Management at Avison Young | Romania: Could we also quantify the increase in profitability, for those companies that will strategically rethink the way their organization works and invest in the experience of employees at work?
Doina Filip: It's not easy at all as the results (mainly in front line) could be driven by external factors such as increased footfall in shops. However, socializing means increased engagement / wellbeing that could be corroborated with increased productivity. On top of that, the line between "office" and "home" will be much more visible and this could be also considered as positive factor.  We should keep in mind that a long time needed for recovering what we've lost during pandemic from social and emotional perspectives.
Gabriela Pepino, OTC Lead la WNS Global Services: How do you maintain people engagement during work from home period?
Doina Filip: No matter the distance, be there! There are a lot of solutions but the key of success should start with communication and preserving the most valuable cultural values.
Georgeta Pintilie: How can the situation of burnout be avoided in the current working conditions?
Doina Filip: The current situation is more complex and burnout could be more driven by personal life management; not easy at all without each manager implication (wellbeing should be a tool and not an HR program) and permanent emotional / psychological support from the company.
Ioana Barsan:How are you creating a growth environment for employees?
Doina Filip: Through new performance evaluation system (regular check ins, individual objectives created by each of employee starting from department OKRs) redesigned leadership concept, adapting training & development curricula at new competencies, opening windows for future development, sharing company results.
Vladut Vasiliu, International IT Recruiter & Business Developer at Neusta Eastern Europe: Do you think that the HR department will be impacted by the current situation?
Doina Filip: For sure, as a lot of new competencies should be acquired as a results of huge impact coming from RPA, digitalization, automated processes – analytics, predictive, finance, strategic workforce planning.
Vladut Vasiliu, International IT Recruiter & Business Developer at Neusta Eastern Europe: What are your success stories which deserve to be shared with the plenary? What was their impact on your business?
Doina Filip: New performance ecosystem (people are directly "responsible" for the objectives set and feel more recognized for their contribution, more focused on creating more ambitious objectives => increased profitability and efficiency), communicate, communicate, communicate.
Dumitru Beatrice: What advice do you have for a student at the beginning of the road?
Doina Filip: The sky is the limit, no fear of unknown, and remember what Einstein said "imagination is more important than knowledge."
Cătălin Roman, Senior Associate ∣ NOERR
Georgeta Pintilie: How can the situation of burnout be avoided in the current working conditions?
Cătălin Roman: The burnout can be avoided by regarding the employees' resting time, daily and weekly, by permitting the employees to disconnect themselves after the end of the daily working time agreed within the employment agreement. Also, one should observe the annual leave of the employee, by making sure that the employee takes leave for at least 10 consecutive working days, in order to make sure that his work capacity is recovered.
Sorescu Andreea, Legal Advisor la Tiriac Group: How do you believe a flexible working schedule can be set up in Romanian legislation, when the companies seem to want to hold control over their employees even in work from home format (records are being held with every employee's position: home or at the office, control calls are being made, etc)?
Cătălin Roman: The employer should observe all the legal obligations in what regards the resting time of the employees. The flexible working schedule can be settled as per the provision in force of the Labour Code, by providing within the employment agreement the flexible schedule, having a flexible period of starting and ending the daily working schedule, during which the employee is free to start or end whenever the working program, and also observing the maximum daily working hours.