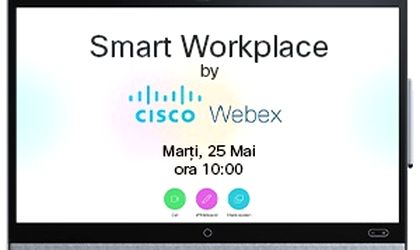 Find out how you can transform your office workspace to feel safe with your team, but also how you can work more efficiently from home during the "Smart Workplace by Cisco Webex" online event, Tuesday, May 25, 2021, starting at 10:00 AM.
Sooner or later everyone will return to the office, but the hybrid way of working will remain. Work from home has changed the way we interact. When we return to the office, we will need to feel as safe as at home. Răzvan Atimariti, Collaboration Lead Romania & CIS, Cisco Romania will host the 45-minute online session that will explore all these aspects and reveal how Cisco Webex can improve your work experience with features such as:
Voice control for all devices, which helps you reduce contact with surfaces;
Digital signage, room reservation, presence and overflow sensors;
Office and home employees have the ability to collaborate securely from any device;
An integrated solution, easy to implement and use.