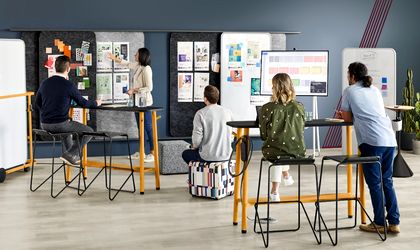 What employees want has changed, and how work is done has changed. Offices will have to adapt and respond to the new needs of hybrid working.
According to a Steelcase survey conducted in 11 different countries, most employees would like to return to the office for at least part of the work week, but they want workspaces to help them improve elements of the work experience that have suffered during the pandemic: connections with colleagues, sense of belonging to the organization and well-being. Over the past two years, dozens of ideas for such spaces, created by specialists from the Steelcase team in Cluj, have been applied in the offices of the world's most influential companies.
Global research reveals what employees need and expect in the age of hybrid working
From the onset of the pandemic in March 2020, Steelcase conducted 12 global surveys with more than 57,000 employees and business leaders to understand the impact on how people and organizations will work in the future.
The most recent survey of 4,986 participants in 11 different countries found that 87% want to spend at least one day a week in the office. But when asked where they would prefer to work, 21% would choose their company office, while 45% would prefer to work from home and 34% had no particular preference.
Key findings from the survey:
People who like to work from their desk are 33% more engaged in their daily tasks, 9% more productive, 30% more connected to the culture, and 20% less likely to choose another setting for their work.
55% of participants are willing to work fewer remote days in exchange for an assigned office workspace – while they want autonomy and flexibility in hybrid work, people also seek freedom of choice and cultivate a sense of belonging
Employees opt for workspaces that benefit their ability to concentrate and support the most effective collaborations:
64% value hybrid collaboration spaces,
62% value single-person enclaves for hybrid meetings,
61% value the privacy that a personal office space can provide,
52% value informal spaces to connect with colleagues.
Steelcase's research focuses on the impact of an optimal workspace on the evolution and development of employee engagement, productivity and connection. The focus here is on the most important principles in workspace design, principles that can shape and educate the perceptions of people who do not have a well-defined preference in choosing this space, and those who currently choose to work from home.
Romanian talent sets the tone for an innovative work experience
Steelcase Global Business Center in Cluj, which celebrates its 10th anniversary this year, acts as a functional in-house hub supporting the entire EMEA (Europe, Middle East, Africa) and North American market, from designers and architects envisioning workplaces for some of the world's largest companies, to smaller Retail & Work-from-Home focused teams responding to consumer demands.
Cluj is home to 350 Steelcase employees with expertise in a variety of high-skilled functions, from IT (it is the second largest IT division after the one in the US), to Workplace Design, Finance, Operations, Marketing, Brand Communications and Human Resources, generating over 10 years a turnover of almost 80 million euros.
"We are proud to have found in Cluj an environment conducive to develop this team that fits well into the Steelcase structure and culture. With people at the heart of everything we do, we are pleased to have built and developed over the years a diverse and inclusive workforce (with an impressive number of women and men in leadership positions). The Cluj office is thus more than just a hub and has become a real talent resource", says Mihaela Oltean, Managing Director at Steelcase in Cluj.
Launched today, the 10th anniversary of Steelcase in Cluj is marked by the campaign "Thank you, Cluj!" (or "10xCluj"), which will run for the next three months, with activities dedicated to the company's employees, the business community and young talents looking for professional development opportunities. Everyone are invited to share what they appreciate about Cluj and why they, like Steelcase, are grateful to the community in this city.