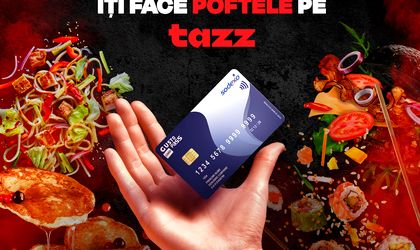 Tazz introduces a new payment method in the application, in partnership with Sodexo Romania, the leader of the local market for extra salary benefits to improve the quality of life for employees.
Therefore, Tazz becomes the only food delivery application where users can pay directly with the Gusto Pass meal card to more than 2000 Tazz and Sodexo partner restaurants.
The Sodexo Gusto Pass Card is an extra salary benefit, offered to employees for daily lunches, allowing them  access to a wide range of restaurants in the country, now through Tazz. Tazz and Sodexo's partner restaurants include: Hard Rock Cafe, Burger King, Samsara, Pizza Hut, Ana Pan, Taco Bell, Caru' cu Bere, Starbucks, Mesopotamia, Noodle Pack, Dabo Doner and many more.
The payment with Sodexo meal card is already available in the Tazz app, promising an easy experience of enrolling and saving payment details, just like any other bank card. To discover Tazz and Sodexo partner restaurants before ordering, Tazz users can apply the "Card Sodexo" filter in the "Restaurants" section and then follow the classic steps of placing an order in the application.
"The partnership between Tazz and Sodexo brings us one step closer to what it means to offer a complete experience for our customers, with access to the best restaurants' selection in the country, where they can now easily order and pay with the Gusto ​​Pass meal card from Sodexo, directly from the app, at the office or at home. In fact, Tazz is the only food delivery platform in Romania where payment with meal cards is available, a widely used benefit by our customers.", added Răzvan Acsente, Chief Marketing Officer Tazz.
—
"Through this partnership, we bring a valuable experience to all employees who receive meal cards from Sodexo and, at the same time, we activate a network of over 2000 restaurants available for payment with the Sodexo meal card, with national coverage in 30 cities. We thus diversify our services for our customers and bring relevant, attractive offers that meet their current needs. In a world constantly evolving and changing, where people are becoming more and more selective, it is essential to offer them the chance to order and pay online for the main meal of the day, quickly and from anywhere, covering as many tastes as possible.", said Silviu Ştefan, Partnerships & Merchants Manager, Sodexo Romania.
To order with the Gusto Pass card, there are a few steps to follow:
Access the Tazz app.
If you don't already have the Tazz app installed, you can download it from the App Store or Google Play;
Enroll the Gusto Pass card in the application, in my Account, "Meal Tickets" section, and choose "Sodexo Card";
Choose the restaurant from the diversified selection of Tazz and Sodexo partners;
Place your order and choose "Sodexo card payment" payment method;
Delivery fee and tips are not covered by the Sodexo Gusto Pass card (in accordance with applicable meal voucher regulations) and can be paid with a debit card.