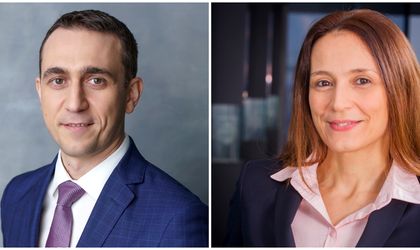 A year ago, PwC Romania's Workforce Disruption Index showed that, in the next decade, 275,000 Romanian employees should learn new or superior digital skills (upskilling) to maintain or find jobs, but the new estimate in the context of the pandemic – which has accelerated digitisation – is at least five years ahead of the previously expected schedule.
By Ionuț Sas (Partner People & Organisation Leader, PwC România) & Oana Munteanu (Senior Manager People & Organisation, PwC România)
Back to the #futureofwork? Learn more about upskilling and more at BR's upcoming HR conference: Working Romania | Fall 2020! More details coming soon.
Already considered a disruptive phenomenon for the workforce, digital transformation has accelerated in recent months as diverse activities have moved into the virtual environment faster than expected. In the circumstances, skills adaptation needs to happen faster because economic and social activities are increasingly carried out online, and because automation will replace some jobs sooner than expected. That is not a threat; it is a call to employees and employers to be prepared for the reality we need to manage. The need for increasingly sophisticated digital skills is growing rapidly and changing labour market demands. We have all been forced to evolve in the online world in recent months, with some just in the digital "literacy" phase, while others have added new skills or developed existing ones.
New communication tools have emerged, existing ones have become more sophisticated and cyber security requirements have been emphasised. And things don't stop there. We need to look more closely at what we know how to do effectively and what the profession we are prepared for now might look like in the future.
If we look at the industries severely affected by the pandemic crisis, we can anticipate that many activities will be done differently. HoReCa or transportation that, until recently, required insignificant digital skills are gradually starting to adopt digitisation. There are areas that have been less talked about so far as digitisation or automation "targets", but more and more companies have begun to explore virtual interaction where possible, even in these areas. At the same time, employees who have lost or are in danger of losing their jobs need to refocus, either by moving part of the activity online, as far as possible, or by learning something else.
The industries where digitalisation and automation are gradually taking over jobs have felt a great impact and will continue to do so. In the manufacturing industry, for example, robots are increasingly common. Cost pressures, especially as a result of the crisis, will speed up this process. Even in public services, there is a trend towards digitalisation, especially when the lockdown period forced the authorities to find solutions for carrying out activities and provide basic public services. Other services, such as telemedicine, have been used mainly by private entities and are now beginning to be familiar to state hospitals and clinics. The online school, a completely new experiment for Romania, although it worked with lapse, is the beginning of a project that will surely continue.
The concern for education and upskilling may alleviate pressure on "vulnerable" people in the labour market in the future. Romania needs investments in education for both children and adults, with an emphasis on digitalisation, but also on those still irreplaceable skills: the ability to make decisions, to exercise creativity, to work well in a team, the ability to learn and reinvent oneself, and to develop emotional intelligence are skills that will be essential for adapting to what will be required in the future labour market.
Realistically, in order to achieve results, the responsibility for education has to be shared between the government, through formal education, employers, through on-the-job training programmes and, last but not least, each individual. Those who are pro-active and invest in their own education will have real benefits in the coming years, but the rest will rely on social assistance systems or poorly paid jobs. The investment is time and energy, much more than money, given the multitude of tools available, especially online. For example, the application generated by PwC, Digital Fitness App, is useful for those who want to check their digital skills and enrol in a digital "fitness" plan.
What CEOs in Romania say about upskilling
Before the crisis generated by the COVID-19 pandemic, the interviewees in the PwC Romania CEO Survey 2020 showed that one of their biggest concerns was the availability of skills within their organisations, regardless of interpersonal skills, working with big volumes of data or digital skills.
Respondents who reported advanced progress with their companies' upskilling programmes showed that the main challenge is employee retention, but companies just starting the process mentioned motivation and lack of resources as the biggest obstacles. Asked about the areas where their companies run the most effective upskilling programmes, the leaders mentioned those that focus on increasing labour productivity (72%) and business growth (70%), respectively projects to reduce skills gaps and mismatches (67%).
Although it is understandable that we question during this period the need to invest in vocational training programmes, as we simultaneously try to reduce costs, but we must keep in mind that there are several ways to use internal resources to provide training. Even if they involve expenses, such programmes are necessary and shouldn't be seen as an additional cost, but rather as an investment in preparing the team and the organisation for the future.
Upskilling is, therefore, a key business initiative that could be addressed at any time when there are lulls or declines in productivity. Preparing the future workforce will require large investments, but the cost of inaction would be even higher.