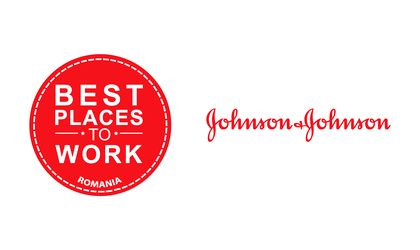 Johnson & Johnson, the leading healthcare global company, is honored for recently being recognized and awarded as one of the best places to work in Romania. Best Places to Work is an international HR certification program providing employers in different countries the opportunity to learn more about the engagement and satisfaction of their employees and honor those who deliver an outstanding work experience with the highest standards in regard to working conditions.
For Johnson & Johnson, all emerging factors judged for the program from leadership to corporate social responsibility, HR practices to teamwork and their high favorably scoring bring them closer to their Purpose of profoundly changing the trajectory of health for humanity, starting with their own organization.
The fantastic work culture is in line with the company's Credo, a document of more than 75 years that guides all decisions made by Johnson & Johnson and puts people first. Alongside their responsibilities to patients, doctors and communities, the code of conduct also highlights the commitment with their teams:
"We are responsible to our employees who work with us, and I believe what stands out in Our Credo it's for and about our employees. At J&J Romania, we build an environment in which Our Credo is practiced daily and in which all people feel that their individual needs are respected and valued, offering equal opportunities to all team members, regardless of gender, age, nationality or membership in a particular social group", says Maria Efrim, Human Resources Leader, Johnson & Johnson Romania. 
 —
"I must acknowledge, mainly in moments like this, it is a privilege being part of a company that is recognized for caring so deeply about its people and empowers us to live Our Credo, ensuring everyday actions that contribute to pursuing Our Purpose, entirely aligned with my own set of values and beliefs", says Sévan Kaloustian, Managing Director Janssen, The Pharmaceutical Companies of Johnson & Johnson in Romania.
Particularly, during 2020 and 2021, having a healthy mind and physical health played an integral role to overall well-being. The company promoted several initiatives for better mental health and wellness like flexible work arrangements, extended lunch time, work out, yoga and mindfulness sessions, for which they had tremendous engagement and employees were grateful for the given focus.
"Over the past 134 years, we constantly created solutions for innovation and development for our patients and it is extremely important to recognize those that make it all possible: our employees. I would like to thank them for their commitment and passion to promote a work environment culture around well-being and work-life balance, throughout the last year and a half" adds Sévan.