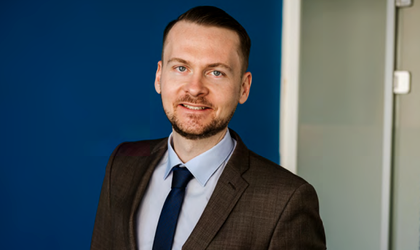 A strategic partner at Business Review's recent edition of the #futureofwork – Working Romania HR Conference, Hays Romania presented its latest study on how inflation has affected the HR industry and the recruitment and retention of employees. Timur Makhmutov (photo), Managing Director Hays Romania, sat down with us to talk about the study and its main outcomes, offering a clear image of how organizations in Romania are tackling this issue right now and what is on the horizon for salaries and pay rates.
Update: The Hays study was officially released to the public on January 17, 2023, and is available for download here.
"Hays Romania looks at how inflation has a marketwide impact, and where employers can optimise their hiring and retention strategies to remain competitive. The aim is to offer a clear image of how organisations in Romania are tackling inflation growth right now and what is on the horizon for salary and pay rates.
In October 2022, Hays surveyed 122 respondents operating across the country in various market areas and industries. The data is supplemented by on-the-ground expertise from recruitment consultants, economic observations from credible sources, and one-to-one discussions with clients fuelling the conclusions.
GROWING INFLATION FORCES EMPLOYERS TO REACT
The immediate impact of 2022 inflation of growing consumer prices and shrinking interest rates – and the potential consequences on people's standard of living – means organisations must take action to find feasible ways of supporting employees while maintaining operating margins. The results of the study show that most organisations know this. Precisely 64% are making plans, or have already taken action, to mitigate the effects of growing inflation on earnings through salary/benefit package indexation.
Hays recommendation – Start communicating what you are doing for your employees clearly and openly. If people trust that you are acting, they are less likely to look for a new job. Organisations that plan ahead, stay ahead. Even if you are not well placed to offer significant increases, employees would value transparency.
TODAY'S DECISIONS, TOMORROW'S ACTIONS
In the current economic, social and political context, the biggest challenge for organisations is to effectively keep core staff and build teams in conditions of rising operational costs. Even so, they are prioritising the heart of the business – the people. We will see the salary increases made this year continuing through the beginning of 2023. Of the 64% of employers increasing salaries, 46% said they will be starting in January 2023, while 34% already adjusted earnings in 2022.
Hays recommendation – Salary increases are not your only form of recourse. Take into account other benefits, such as home working and subsidising utilities, or engaging your employees better with an improved employee value proposition. A good organisational culture, consistently promoted and followed up on, can be a vital tool in retention.
INFLATION OUTSTRIPPING INDEXATION
In September, the monthly inflation rate in Romania reached 15.9%, according to Trading Economics. Just 24% of respondents are increasing salaries by 11%- 15% – barely keeping up with the current inflation rate. With the prevailing 44% looking at increases of 5%-10%, we can conclude that employers want to support employees but remain cautious in a fluctuating market.
Hays recommendation – Be aware of what your competition is offering on the indexation agenda. Ensure you conduct thorough exit interviews with people leaving your business. If you do see a trend of employees leaving for specific competitors, find out what they are doing differently and make adjustments. If you are ahead of the league, don't be shy to make a clear statement to your people."
Timur Makhmutov, Managing Director Hays Romania