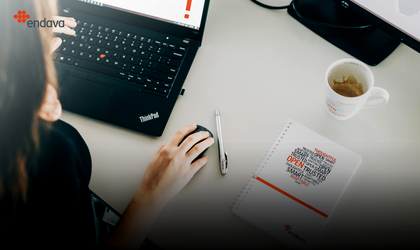 Endava Romania, the British software company present on the local market, with seven delivery centres, announced that it is searching for candidates for over 90 job positions in November. The openings are distributed in all the cities where the company operates: Brașov, București, Cluj-Napoca, Iași, Timișoara, Tîrgu-Mureș and Pitești. Besides the job openings, the company is rolling programs for juniors in five of its locations from Romania.
The Romanian delivery teams are collaborating with clients from the payments and financial services area, TMT (Technology, media, and telecom), FMCG, logistics, but also with most of Endava's global support services.
In terms of vacant roles, the company is searching for developers, testers, application management engineers, data experts, employees in shared services, analysts, project managers, software architects and recruiters.
On the local market, the company continues to focus on developing programs with technology communities and supporting the strategic partnerships created in the last couple of years with all the technical universities located across Endava's delivery centres.
The focus on supporting the growth of the IT market is also underlined by the different junior programs oriented in developing skills in areas such as development, testing, DevOps, or CRM. The junior programs available now are covering Brașov, București, Cluj-Napoca, Iași, and Pitești.
Since the global Covid-19 pandemic arose, the company's priority was to ensure health and wellbeing for all the employees and their families, working along with its clients to adapt to this new context, to secure jobs and to increase their safety.
Endava in Romania
Brașov, București, Pitești
"In this period, we focused our efforts towards rapidly adapting to the disruption of the market created by the current pandemic, to enable our clients to make sudden changes to their business. In times of crisis, the companies which are adaptable and with a high level of professionalism in their field of work, handle this type of situations the best.
Endava proved to be well equipped to offer services in this area, our offering being focused on digitization, agility, and automation. The capacity of solving complex problems and creating competitive advantages in this difficult economic context helped us to strengthen our partnership with existent clients and opened opportunities with new business", declared Alina Soare, Head of People Development and Recruitment for Brașov, București, and Pitești.
Cluj, Târgu Mureș, Timișoara
"During the last few months, many talented people of all career levels have joined our teams across various technologies and disciplines, as we continue to offer exciting career paths in our professional communities.
Starting with October, we have opened more positions in all of our locations, to meet the rising demands of both our existing and future clients, as the Digital Evolution needs have accelerated across all the major business verticals we serve as an organisation.", declared Horea Străuț, Regional Head of People Development and Recruitment for Cluj-Napoca, Targu Mures & Timisoara.
Iași
"Even if we are facing right now a pandemic context that we didn't encounter so far, we managed to adapt all of our activities and initiatives, so we continue growing and keeping our people engaged, with a feeling of belonging to our culture. When it comes to recruitment, we accelerated all of our engines. Despite the challenges, we managed to stay close to our clients and partners and managed to bring new opportunities to our location.
For us, every project is both about delivering, and about the outstanding people who deliver, and now we are looking for future Endavans to grow together with us.
Moreover, we organized this summer our traditional Internship Programme, where we had more than 1500 applicants, and we selected the best 31 to participate in the Internship. There was a great opportunity for them to have a sneak peek of what`s happening in an IT company.
To sum up, comparing with the same period, last year, we reached better results in terms of people who joined us, new projects brought to Endava, and we are confident we will keep going in the same way", declared Ioana Pavel, Head of People Development and Recruitment in Iași. 
Endava is listed on the New York Stock Market and had a market valuation of 3.61 billion dollars on 4th of November 2020.
The job openings can be consulted on the company's career page.