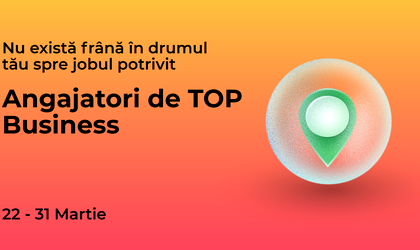 The biggest career fair in the country, TOP Employers, returns this spring in an online format, on Hipo.ro and aims to once again support both people who are looking for a job, regardless of level experience as well as the need of the most active local and multinational companies to find suitable candidates for open positions. The fair will take place nationwide, with a focus on cities such as: Bucharest, Timisoara, Iasi, Cluj-Napoca, Brasov, Ploiesti, Pitesti or Sibiu.
Starting from a study conducted by the Hipo.ro portal, where the TOP Employers career fair also takes place, the organizers noticed a doubling of the number of jobs compared to 2020. This increase is observed in most fields of activity, and 92% among the employers who took part in the study, they aim to recruit specialists with experience in 2021. At TOP Employers, experienced people looking for a job can choose from the over 2,600 opportunities offered by partner companies.
If the year 2020 was very difficult for juniors looking for a job, the year 2021 brings good news for them because the volume of programs for students/graduates has increased by 30%. According to the Hipo.ro study, 85% of employers aim to recruit entry-level candidates in 2021, with less than 3 years of experience. As a result, young people can find at TOP 5100 Employers internship programs and jobs for almost all specializations.
"We are witnessing a significant increase in the number of jobs – practically a thawing of the labor market. I am glad that this was also reflected in a very high interest of companies towards the TOP Employers career fair. Candidates who are now looking for a job will have many options to choose from. " Ionuț Vasile, Project Manager – TOP Employers
Many areas were affected in 2020, but things improved at the beginning of 2021. With the doubling of career opportunities compared to the previous year, starting from the areas of activity with the most jobs, the organizers thought 3 editions TOP Employers with a focus on the most desired fields: Business, Technology and Engineering.
To prepare for the launch of TOP Business Employers – March 22-31 – the organizers have identified which are the top areas with the most business jobs in 2021:
Finance Accounting
Customer support – Customer service
Human Resources – Psychology
Procurement – Logistics – Procurement
Management – Consulting
Retail – eCommerce
Sales
Marketing
Secretariat – Administrative
"We currently have over 450 open positions, both full-time and internship, available in Bucharest, Cluj-Napoca, Brașov, Iași, Timișoara and Tîrgu Mureș. For most of them, over 300, we are looking for people with technical skills to join us in Technology and Industry X. But we are also looking for speakers of foreign languages, with learning potential, motivated and with the right attitude towards team and work to join Accenture Operations. Here, we are especially interested in people with experience in the financial-accounting field or human resources, to develop in roles of expertise in the field or coordination". Vaclav Kinzl, Accenture Romania Recruiting Lead.
In addition to a wide range of jobs available at TOP Business Employers, participants will be able to access the services of the Career Resource Center for free:
Consulting for the development and improvement of the CV;
Live discussions with employers;
Career counseling for young people and those who choose to change jobs;
Over 25 HR professionals who will provide information and career advice to candidates.
Virtual workshops and conferences
The companies that have confirmed their presence at TOP Business Employers are:
Veeam Software, BearingPoint Romania, Dell Technologies, Vodafone Romania, Continental, Hella Romania, BCR, Enel Group, JTI Romania, PepsiCo Romania, Nestle Romania, Engie Romania, Regina Maria, Smithfield Romania, Metro Cash & Carry Romania, Penny., Superbet, British American Tobacco, Automatic Data Processing (ADP) Romania, WEBHELP Romania, Michelin Romania, Valoris Center, Accenture, Concentrix Romania, Cegedim, Allianz Technology, TELUS International Europe, Schlumberger, InSites Consulting, Societe Generale Global Service Center (SG GSC), Teleperformance Romania, Deloitte Romania, DB Schenker GBS Bucharest, Bosch Service Solutions.