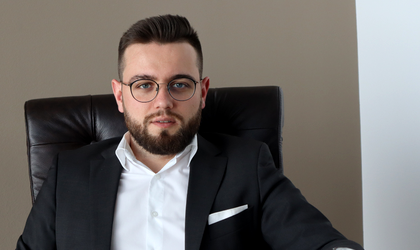 Daktela, a global multichannel call center software solutions provider, has recently entered the Romanian market. The company provides one of the most complex cloud PBX solutions and omnichannel modules for customer service, enabling businesses to interact with their audience via phone calls, email, SMS, web chat and social networks. And now it's all made possible with one single platform.
Originally established 17 years ago in Prague (Czech Republic), the company currently operates one of Europe's largest VoIP cloud infrastructure networks for well over 900 companies. Daktela operates 4 data centres, covering over 11 million minutes per month, as well as over 21,000 worldwide licences sales per month.
Why is an All-in-one Omnichannel Contact Center software so important?
Efficient communication with customers and potential customers is essential for any business. They need real-time support and assistance has to be delivered swiftly and without any communication gaps. It is exactly why it is important that all these channels of communication to be centralized in the most effective manner.
Thanks to the services it provides to companies, Daktela brings together all channels of communication with customers in one single platform. The integration possibility means that applications used by companies can be interconnected with the Daktela app (e.g. CRM, e-shop, ERP applications, etc.).
"Daktela integrates all communication channels into one single platform and improves the efficiency of customer support, significantly cutting costs and eliminating the user's need to work in multiple applications. Daktela's solutions provide companies with streamlined reporting that includes all communication channels, multiple API-based integrations and a cloud solution hosted on Daktela's servers or directly on the company's server (on-premise).  Daktela clients have access to international numbers that they can access depending on the region they live in. Our Technical Support team is available 24/7. With Daktela's Call Center software solution, companies see higher productivity and increased rates of customer satisfaction", says Mihai Nica, Country Manager for Daktela Romania.
An efficient "Work from Home" solution via live activity reporting dashboard
Thanks to Daktela, companies have real-time access to operator/user activities and personalized statistics. The Daktela software is designed to monitor remote work, ongoing projects or pending assignments. Everything can be tracked, measured and resolved in just one single application. This allows companies to effectively manage employees wherever they work in order to improve the performance of the contact centre.
Daktela platform offers advantages to its users
The Daktela software provides administrators/managers with real-time consolidated reports for all communication channels. All customer interactions, regardless of the communication channel, are automatically recorded directly in the CRM. This significantly boosts productivity and customer satisfaction, since the agent/operator constantly gets access to real-time communication records. Another key feature is the 24/7 technical support! Daktela's team uses its own software solution in its daily work, therefore its operational experience ensures that any situation encountered by its partners can be resolved.
Daktela software can be tested for free
Daktela gives companies the opportunity to test the all-in-one Call Center and Contact Center software solutions free of charge for 14 days. The demo version provides the same user experience as a licensed active account. In addition, Daktela experts also offer a free online presentation to anyone who fills in the following online application form https://www.daktela.com/ro/cont-demo/ .