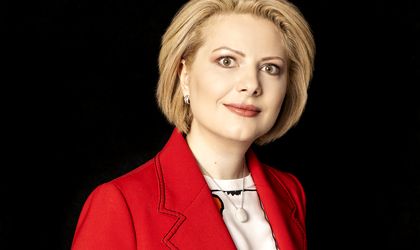 Around the world, 2020 has emerged as one of the most challenging years of our lifetime. In just six months, the world has endured multiple challenges, including a pandemic that spurred a global economic crisis. One of the keys to an inclusive recovery are programmes that provide easier access to digital skills for people hardest hit by job losses, including those with lower incomes, women, and underrepresented minorities. Business Review interviewed Violeta Luca, General Manager of Microsoft Romania, to find out what skilling means for people today.
By Aurel Constantin
Considering the COVID-19 situation, which led to many changes in the way we all work, how important is employee skilling or learning new things for the job you have or the one you want to have?
Violeta Luca: I believe learning should be a lifelong process, so I would say skilling is an essential element of any professional career at any time, not necessarily just during difficult times. After all, when you learn more, you can do more, and you can achieve more. That said, a solid skillset definitely represents a competitive advantage on the job market and while managing one's career path, the focus should be on developing skills, keeping the three horizons in mind – the short, medium, and long-term impact. As for which to prioritise, I believe that the answer depends very much on the individual situation, but creating value for stakeholders is paramount at any given moment. What is different now is that we have all been propelled into the next stage of the digitalization of collaboration by the pandemic – with remote working, online collaboration, and such – and it is very important for an employer to provide the necessary skilling opportunities for employees to adapt. Not only that, but this new work landscape also holds not just the key to survival, but also important opportunities for the development of a company. And those opportunities will be unlocked when employees have the knowledge and skills to make the best of them.
What skills should any employee learn to secure a role in the work-force of tomorrow?
Going forward, I think communication will be an essential skillset in any job – as technology and circumstance encourage remote work and collaboration, we will need to improve our abilities to listen, understand, and make ourselves understood, at any job level. Furthermore, I believe that having strong project management skills is extremely valuable in an environment that is more complex, dynamic, with many interdependencies and multiple stakeholders. In many cases, "getting the job done" requires excellent project management and orchestration capabilities.
Another element is something I like to call "digital awareness." That is a general knowledge of how digital systems interact and function. I'm not saying we should all be engineers, far from it, but like professional drivers have a general notion of how an engine works even if they are not able to repair it, so too a user of digital tools should have a notion of the principles behind them. This will allow them to use them at maximum capacity.
Should companies invest more in their employees' education? How does upskilling help businesses survive?
Obviously. Helping your employees develop is one of the best things you can do as a company – both because you benefit directly from increased productivity, but also because you add value to their lives and establish beneficial relationships. Retaining valuable employees might become a challenge sometimes, and it's definitely not enough to be able to provide a good job. In my view, a company should build a more comprehensive set of benefits, paying a great deal of attention to culture. In my experience and considering today's needs, an employer that drives loyalty and overall favourability is one that creates the time and space and provides resources to enable continuous education.
In this respect, and at the same time in response to the global economic crisis caused by COVID-19, Microsoft recently launched a new global skills initiative aimed at bringing more digital skills to 25 million people worldwide by the end of the year. It is our belief that expanding access to digital skills is an important step in accelerating economic recovery, especially for the people hardest hit by job losses.
This initiative includes immediate steps to help those looking to reskill and pursue an in-demand job and brings together every part of the company, combining existing and new resources from LinkedIn, GitHub, and Microsoft.
The digital transformation of the economy is underway and has accelerated since the start of the pandemic. How important is the process for the overall economy as well as for companies?
It's essential. It was a natural, almost organic response to a very real need, and it transformed the way work is being carried out on a global scale. But that was reactive – a solution to a problem. What is important now is how we can build on that, how to take that next step and make it the beginning of a transformation that carries us into the future, and doesn't just solve the problems of the present.
SMEs were badly hit by the crisis. What should they do to avoid bankruptcy and how can digitalization help?
I think digitalization can greatly increase a company's agility – and if we are talking about SMEs, their smaller size coupled with digital transformation can make them amazingly flexible. Digital tools can help you reduce costs without decreasing productivity, can help you create and scale new products and services quickly, can open up communication to new audiences, enable new sales channels, and so on. The decision to transform the business model using digitalization is absolutely needed and has the potential to drive extremely positive outcomes. And let's not forget that sustainability relies on vision, perspective, strategy, and execution, and more importantly is driven by amazing and empowered people.
***
Microsoft sets out to help 25 million people worldwide acquire digital skills
Reopening societies after the COVID-19 pandemic will show that people need to develop digital skills in order to find new jobs. Key to the recovery are programmes to provide easier access to digital skills for people hit by job losses. To help address this need, at the end of June 2020, Microsoft launched a global skills initiative aimed at bringing more digital skills to 25 million people worldwide by the end of the year.
"This initiative will bring together every part of our company, combining new and existing resources from LinkedIn, GitHub, and Microsoft. It will be grounded in three areas: the use of data to identify in-demand jobs and the skills needed to fill them; free access to learning paths and content to help people develop the skills these positions require; low-cost certifications and free job-seeking tools to help people who develop these skills pursue new jobs," says Brad Smith, President of Microsoft Corp.
At its heart, this is a comprehensive technology initiative that will build on data and digital technology. It starts with data on jobs and skills from the LinkedIn Economic Graph. It provides free access to content in LinkedIn Learning, Microsoft Learn, and the GitHub Learning Lab, and couples these with Microsoft Certifications and LinkedIn job seeking tools. In addition, Microsoft is backing the effort with USD 20 million in cash grants to help non-profit organisations worldwide assist the people who need it most. One quarter of this total, or USD 5 million, will be provided in cash grants to community-based non-profit organisations that are led by and serve communities of colour in the United States.
As part of this new initiative, LinkedIn is sharing free, real-time labour market data and skills insights to help governments, policymakers, and business leaders understand what's happening on their local labour markets: what companies are hiring, the top jobs companies are hiring for, and the trending skills for those jobs. This data can be accessed using a new interactive tool at linkedin.com/workforce. Data is available for more than 180 countries and regions (150+ cities, 30+ countries). Users can search by country or region and download relevant data sets.