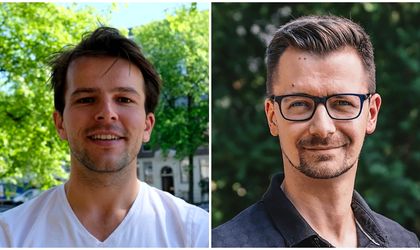 While uncertainty affects companies and individuals around the world, there has been an increased reliance on HR departments. Remote working is an adjustment that many have had to make, but HR departments facilitated it. Marnix Broer, CEO and Founder of StuDocu and Dominik Grzegorzewski, Tech Recruiter at Recruitee, answered BR's questions, offering some insights on how their businesses and HR teams made these adjustments and how HR tech helps facilitate their workload.
Find out more about the latest HR technologies at BR's Working Romania | Autumn Edition, September 29 on-site at Courtyard by Marriott Bucharest Floreasca & streamed live in the #FUTUREOFWORK online communities on Facebook and LinkedIn.
Marnix Broer, CEO and Founder of StuDocu:
With the COVID-19 pandemic forcing companies to work remotely, how has your company managed employee mental health?
We really love our office vibe and we have a close team, so there is definitely a huge difference now that we are all working from home. With this in mind we try to create many opportunities for the team to virtually get together so that we still maintain that feeling of always having someone to chat with when you need to or want to. This includes: random virtual coffee dates every week, a coffee break room (a Google Meet room that is always open for people to pop in), and of course lots of Slack interaction. We also have weekly yoga sessions (sometimes twice a week) which is always fun and refreshing to do as a group even if it is remotely.
When this all started and we knew we'd be working from home for a while we prepared some gift bags for our entire team that included a framed photo of our office cat (@studocat). The best part was that they were hand delivered (at a safe distance) by our management team, which also made it a great opportunity for them to have a quick chat with the team members to ask how they were doing.
What impact has remote working had on your HR departments ability to maintain team engagement and still hire top talent?
We are really just doing our best to make the team feel supported and motivated. We try to be open and transparent by giving updates after each new press conference as well as general business updates so that we aren't creating an environment with even more uncertainty during these times. We communicate expectations and stick to our regularly scheduled stand ups, team meetings, 1-2-1's and our End-of-the-week presentation so that our work schedules are not too different than before. And of course we are constantly checking in on how each person is doing. 
Since we are amongst the few companies who are resilient to the Corona virus and Lock-downs, we consider ourselves lucky that we're still hiring. We notice that people are very open to talk about new opportunities, especially as a lot of other companies have had to freeze hiring. 
Why did you decide to use HR-Tech and what kind of impact has it had on your company?
Around 3 years ago we started using Small Improvements to structure our bi-annual Performance Reviews. Over the past year we've also started to use other features within Small Improvements to run 360 Reviews and to encourage the team to share positive feedback and praise for great work. Feedback is an important part of our company culture, so this tool helps us to encourage it and structure it. 
That was also about the time we started using Peakon to measure Employee Engagement. It allows us to collect anonymous feedback from the team across various different drivers. Additionally, it allows us to be really transparent because everyone has access to the dashboard overview which shows a timeline of StuDocu's engagement score. 
We started using BambooHR one year ago because our team had just completely outgrown our old processes. Before the change we were using Google sheets to keep track of everything including birthdays, contract information, vacation days, etc.. With the current system, all of the information is organized in one place, each team member has access to their information, and it reduces the time HR has to spend on admin.
Last but not least, Recruitee. Recruitee helps us make sure that we have a streamlined and organized process, making sure we're compliant as a company and respect GDPR, whilst also providing our candidates with an efficient and pleasant user journey. Internally it's also helped us a lot to make sure we're able to provide objective feedback, with the help of things like templates for example. The team collaboration is also a great feature for us, as we like to ask and share feedback throughout the recruitment process.
Can you estimate how much the new HR technologies have reduced the workload of your HR departments?
It is very difficult to estimate how much time HR technologies have saved us, but automation and using the newest technologies is in our DNA of the company, not only to save time, but also to decline the chance of error and striving for as little as possible repetitive (read boring) tasks.
On top of that, an ATS tool means that we can easily see how many applicants we're engaging with, we can share notes amongst colleagues and hiring managers, and we can collect data to reflect and see what's successful and what isn't.
At what levels have you recruited using HR-tech so far (C-level, middle-management, specialists)? (maybe we can have some stats here, based on level, department, position/role/etc.
We have been using it for all levels so far, and by advertising our roles on different platforms (LinkedIn, Indeed and our own website too of course) we have been able to attract talent from all over the world.
In the case where we see too little talent applying, we choose to also have talent sourced via recruitment agencies.
Dominik Grzegorzewski, Tech Recruiter at Recruitee
At what levels have you been recruiting using HR-tech so far?
My experience as a recruiter includes hiring for C-level, middle management, and technology experts' positions. I sought out talent first as an external consultant to diverse customers and then within a global manufacturing company and a large software house.
Currently, I'm responsible for end-to-end recruitments for technical teams at Recruitee. Our product, delivered in SaaS model, enables teams to fully own their hiring actions.
Can you describe some innovative ways that HR-Tech is helping make hiring easier and more effective?
Technology in HR has undoubtedly brought us many advantages in handling recruitment. ATS (Applicant Tracking System) remains the core tool for such activity. With software running in the cloud and mobile, recruiters have access to talent pipelines from multiple devices and locations. Adopting analytics helps in choosing the best performing job boards for vacancies, evaluating team performance, and predicting a hiring success.
Some solutions leverage the power of AI to make candidates' data a structured base of skills. They can be interpreted by the built-in engine to match applicants better to the positions. Besides recruiter's own work, efficient ATS delivers collaborative features to keep the workflow between all parties involved in the process. 
Can you estimate how much the new HR technologies have reduced the workload?
Nowadays a recruiter's role for organizations reaches far beyond hiring, so I would say having the right software lets you, first of all, spend less time on manual tasks and automate the repetitive ones.
Due to the growing complexity, a recruiters job is never done, so it's difficult to give any estimations about workload change. On the other hand, thanks to technology our focus on diverse fields is becoming more efficient time-wise. Having all of the tools connected in one ecosystem provides a better quality of data, smooth information flow, and supports in making decisions.
How prepared is the European workforce market in adopting the latest HR technologies?
In each country the adoption rate is quite different. Moreover, the size of the company can impact to what extent business is opened for implementing new tools and what budget was invested to make a digital transformation. The coronavirus outbreak might stop larger investments in the technology landscape, but modern solutions are within reach more now than ever. Companies provide free trials and tailored pricing plans, which can meet the HR needs of every company. 
We are seeing more and more digitalization in the HR industry, with recruitment robots and other innovative tools being developed each year. What do you think the future holds for the HR sector?
Yes, it's becoming a common theme that AI will one day make some jobs redundant for humans. Personally, I think it would be interesting to see if the AI assisting me in the recruitment process could learn by experience and based on reasoning would make the same hiring decision as me. And I think that's exactly where the future is headed, where recruiters use technology for reducing hiring bias and better their decision making.
For those who think that technology can replace recruiters and HR teams in the future, I would ask: How will machines earn the trust of employees and candidates? For that reason, I think there is a future for technology and our teams to coexist.