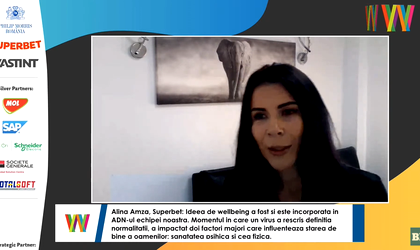 A speaker in the All-Star Employer Branding Panel at Working Romania HR Conference, Alina Amza, group wellbeing & inclusion director at Superbet, presented how her company implemented an assistance programme, launched the OPAL project, created an internal newsletter, organised 80 workshops on various topics, and constantly communicated with its employees.
The pandemic has highlighted the fact that mental and physical health are crucial for an employee's wellbeing. As a result, companies decided to make wellbeing a top priority for both their HR departments and leaders. "Attention has shifted from performance, retention, and productivity towards caring for our people. The HR team has played a crucial role in supporting employees and keeping them connected while working online, allowing them to talk to a specialist when they faced stress or anxiety, and helping them feel safe from a financial perspective," says Alina Amza, group wellbeing & inclusion director at Superbet. "All these initiatives represent a solid foundation for a coherent wellbeing strategy. We went from a reactive approach to a preventative one," Amza explains.
"The idea of wellbeing was and is embedded in our team's DNA. The moment a virus rewrote the definition of normality, it impacted two major factors that influence people's wellbeing: mental and physical health." Says Alina Amza, Superbet. "Our company immediately adapted to people's new needs. The focus was no longer on performance, productivity or retention, but on caring for people. It was the only natural, ethical thing to do at that time.
She adds that a key word related to wellbeing—both in general and in Superbet's case—is co-creation or collaboration, meaning that everything the company does in this area is developed through collaboration with its employees. "Wellbeing should be multidimensional because it is influenced by many factors. In addition, companies should have a systemic approach, as all the employees and leaders of an organisation have a role in enhancing the impact of wellbeing. Plus, there is a need to customise wellbeing interventions according to the specific needs of a group of employees."
"All organisations should focus on what it means to be flexible, agile and resilient. Wellbeing is a dynamic, individual, subjective state, so it is important to understand what influences it." Says Alina Amza. "In terms of wellbeing, the #futureofwork involves three types of approach: multidimensional, systemic and personalised."