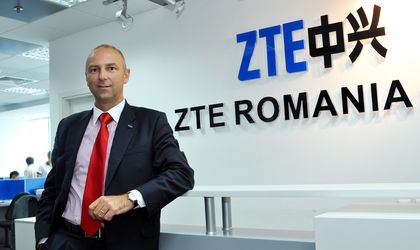 Chinese state-owned telecom equipment company ZTE is rolling out plans to set up one production line for handsets and tablets and another for customer premises equipment, which includes digital television components and Wi-Fi routers. The company is also planning to sell its handsets on the open market and wants to equip schools with tablets. Lorian Ovidiu Vintila, ZTE's operations and strategy director, tells BR he will put these plans on the table before the new Romanian government.
Otilia Haraga
What are the latest developments in ZTE's strategy for Romania?
Just recently I had a meeting at the Chinese Embassy, where I was handed in the new strategy for Romania. We are talking about a financing line of tens of billions of USD. We are in direct connection with the Bank of China, the China Development Bank and Eximbank (Eximbank Romania has very good relations with Eximbank China), and in fact most banks that are interested in developing partnerships in Europe and Romania.
If Romania can attract this money, it would be great. The Romanian government needs to create a solid telecommunications infrastructure that it could rent to operators so that it can reach the so-called "blank areas" – towns and villages where, at the moment, there are no data or even voice connections. The recently approved financing line also covers the creation of ZTE production lines in Romania.
Why import them when we could make them here and then export them to emerging countries or Western Europe, since Western Europe is also importing them from China?
Have you discussed these plans with the Romanian authorities?
We will be meeting this week the new minister of telecommunications, Dan Nica, and his advisors, to find ways to invest in Romania and sign partnerships. To reach those blank areas, this can be done via optic fiber or via microwave transmission (point-to-point communication). We must find together the way. If a railway passes through a certain area, we will use it to transport optic fiber. If that blank area is somewhere you can reach it harder by optic fiber, we will use microwave connections.
We have never and will never require state aid, because we have enough money. We have been motivated to collaborate with Romania in the spirit of its good relations with China ever since 1949 (e.n. Romania was the 3rd country to recognize the People's Republic of China, on October 5, 1949).
We work with very low margins and very long terms for investment return because we understand this is the only way to survive on a highly competitive telecom market. We are currently approaching the market with an interest rate of approximately 2 percent while the return term can be 5-10 years, depending on the project.
What projects will be up for discussion?
A very important point is the creation of a production line for devices – which includes smartphones and tablets. Approximately 100 employees are needed for a small-capacity production line. But if we are also talking about auxiliary services, it could require 200-300 employees, maybe even 500. Another one is the creation of a production line for customer premises equipment, which includes not only devices for digital television but also Wi-Fi routers and other types of equipment for the final user at home. It could employ about 200 people.
As stated by a European directive, we need to switch from analog to digital TV and for this we need certain equipment, which must be produced or imported. Not only Romania needs to comply, but all of Europe, which means demand will be at European level. It would be great if Hungary, the Czech Republic, Belarus etc imported from Romania, not China. Once these production lines are created, their end products will respect European compliance norms.
Have you decided where ZTE will open these production units?
I tend to favor Constanta. However, recently I was invited to Deva and Hunedoara, with a pool of talented IT&C people. In Hunedoara, there is already a Chinese bicycle manufacturer, DHS.
Personally, I recommended Constanta because we would have a direct sea link – the equipment can come from Shenzhen to Constanta, which saves time. The charge is downloaded from the ship and you need to take it to the plant. Here you can transport it from the port to the production line in one hour, or to Deva or Hunedoara in 12 hours. We must also take into consideration the road infrastructure that we want, but at the moment don't have. On the other hand, I saw Hunedoara is in fact a hub, since several highways meet there and go West.
What other projects will be under discussion?
We want to discuss an important project to bring internet to schools, where it does not exist yet, since we have vast experience of this in China. We hope to ask the new minister of education in Romania to create this infrastructure and equip schools with tablets.
At the moment, we produce tablets of 11 inches. Usually schools have desktops, but think about how much space they take up, while tablets can work just as fast.
What projects has ZTE begun in Romania?
We are trying, with Orange Romania, to open an excellence center within the Telecommunications Faculty in Bucharest to train students and teachers in new technologies. Some of the teachers will be trained in Romania, and others we hope to send to China so that they understand what R&D means and how a production line works, in our case. We already have instructed some of the trainers.
Our plan is to replace the old 2G equipment and data transmission via copper with the new GPON (gigabyte passive optical network) equipment that transfers data via fiber optic. We also intend to swap 2G with 3G and 4G equipment because this is the future. We want to apply this program at the Faculty of Telecommunications in Timisoara and other universities as well.
What services and products does ZTE offer in Romania?
We cannot talk about services but turnkey solutions. To give you an example, the Zapp 3G network was entirely done by us.
Talking about GPON projects – fiber optic TV, internet, the landline backbone we are now creating with RCS&RDS – this is not a turnkey solution: we deliver the equipment and they implement it using their own teams and resources.
How does ZTE run its operations in Romania at the moment?
In Romania we have two offices in City Gate tower, on two floors. On the 11th floor there is the commercial and management department while on the first floor we have the technical department – sales, pre-sales and after-sales.
ZTE currently employs over 50 Romanians and 23 Chinese with work permits who are permanently in Romania. We also have 60-70 temporary colleagues in the production and R&D centers, depending on the project. At the moment we are looking to employ a sales director and two account managers. In Romania we do not yet have R&D operations but I hope to start such a project here, since we have a very good pool of young talented people who are leaving Romania for better paid jobs. ZTE already has R&D centers in France, Switzerland and a point in Hungary.
What turnover did ZTE post in Romania last year?
We ended 2011 with nearly EUR 80 million. This year we aim to remain within the indicators traced by the company, between EUR 60 million and EUR 100 million. If the Romanian state agrees to go into partnership with us, we are then talking about a turnover of hundreds of millions of EUR. I think we have somewhere around a 30 percent share on the telecom equipment market. With some operators, we have more than 50 percent. We work a lot with RCS&RDS and operators in the Asesoft group, such as 2K Telecom.
How much has the company invested in Romania?
In 2012, ZTE has indirectly and throughout local operators invested around EUR 4 million here. Investments go into free consultancy we give operators and technical after-sales services. With some projects, even if they are turnkey, they are maintained from our own resources in Romania.
For example, if there is a problem that appears one or two years after the contract has expired, we go and solve it. We have a consultative approach while other companies have a cash-and-carry approach.
I would be very content if by the end of this year we would have helped national operators such as Radiocom, CFR Telecomunicatii and Transelectrica or the Ministry of Education.
ZTE is the fourth biggest producer of mobile phones globally. How does it rank in Romania?
Last year, about 4 million mobile phones were sold on the Romanian market, which includes phones sold by Orange, Vodafone, Cosmote and RCS&RDS, while the open market sold about 20 percent, nearly 700,000 handsets.
We have just finished discussions with the largest distributor of handsets in Romania and will sign a contract shortly to enter the open market. We already sell our phones and tablets in the stores of all telecom operators in Romania.
Last year, we sold nearly 200,000 phones in Romania. However, once we go on the free market, I estimate this number will reach 400,000 by the end of next year. At the moment, we do not distribute tablets that are compatible with 4G in Romania because 4G services are not available here yet. But globally, we do have such devices – we were at the Mobile World Congress in Barcelona with four 4G compatible models.
What do you predict will be the result of the spectrum auction this summer?
Personally, I believe a new foreign operator will enter the Romanian market, a Turkish company. The Romanian market is highly competitive and has developed a great deal on voice but not enough on data services, in my opinion.
A great deal of investment needs to be put into 3G and 4G data transfer, equipment and coverage.
otilia.haraga@business-review.ro
CV LORIAN OVIDIU VINTILA
May 2007-present operations and strategy director, ZTE Romania
June 2008 NTU Waseda Double MBA in Management and Technology, Tokyo, Japan
April 2006-May 2007 country manager at Telecom Italia Sparkle, Romanian office
April 2002-April 2006 national sales executive at Orange Romania
July 1997- April 2002 dealer channel manager at Orange Romania
January 1997- July 1997 sales manager at Motorola Communication Romania
April 1992-December 1996 shop manager at Gepa-Grundig Electrocenter
1994-1999- Faculty of Psychology, Bucharest University
1987-1991- Faculty of Veterinary Medicine, Bucharest