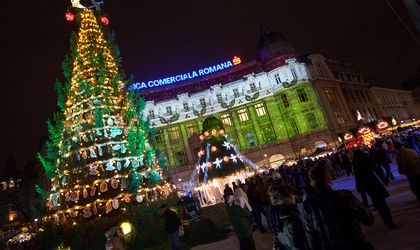 For our readers who find Christmas shopping stressful, but still want to surprise and impress their loved ones with a thoughtful gift, BR is on hand to help you navigate the festive retail maze. Over the following pages you will find our selection of the best places to do your Christmas shopping, from local designer fashion boutiques, through to traditional Christmas fairs, upmarket delicatessens and multi-language bookshops. We even suggest some places where you can enjoy a reviving glass of wine when you're done.
 By Oana Vasiliu
Romanian designer goods
Cocor Store
Unique for the Romanian fashion designers' gallery on its second floor, which currently brings together more than 30 local designers, Cocor offers a variety of clothes and accessories at affordable prices and bespoke options. Brands include: Doina Levintza, Liza Panait, Catalin Botezatu, Mihai Albu, Anca & Silvia Negulescu, Elena Perseil, Adelina Ivan, Agnes Toma, Cristian Samfira and Cristina Nichita.
29-33 I.C. Bratianu Blvd.  www.cocor.ro
Dada
The epitome of a concept store. After enjoying a fusion lunch in the unmistakable Dada style, you can pick up a dress or bag at production prices. Why? Because the building's upper floor hosts the Dada factory itself. Downtown, Dada products and other fancy labels like the local Edita Lupea and Ioana Covalcic can be found in the little shop at Piata Amzei.
94bis Matei Voievod (restaurant/showroom), 1 Tache Ionescu (shop). www.dada.ro.
Kristina Dragomir Hats
Artistic hats are created on frames made by the renowned UK Royal House specialists, with the finest and most exotic materials purchased inLondon, where the designer learned her craft. This is a fantasy world where women have no limits.  Kristina Dragomir is available to discuss bespoke hat options and give styling advice by appointment only, from 18.30-21.00, Monday to Friday.
51 Mihail Kogalniceanu, 2nd floor, access code 11. www.kristinadragomir.com
Madame Briolette
A window full of heads wearing hats, berets and caps on Magheru Boulevard heralds a store with modest interior design, but this means little given the shelves of hats waiting to be tested. Aside from fur hats made in Poland and Ukraine, the multitude of felt options and classical models in many colors are created in Romania. Hand-knitted hats and shawls from Hunedoara villages and plenty of colorful leather gloves are among the many other accessories. And all at very affordable prices.
Briolette du Cinema, 29 Magheru, corner with Biserica Amzei; Briolette Boutique, 12 Ion Campineanu
Musette
A classic feminine look and comfort, designed by an Italian team, are what characterize the Romanian-based footwear brand Musette. Bags, clutches and belts, defined by color and style, are also manufactured under the same name. Cristhelen B is Musette's premium brand for woman, an exclusive line produced in limited editions. For men, the Giannini line of shoes and accessories is made to the same high standards of quality and affordability.
114 Calea Victoriei, Baneasa Shopping City, Bucuresti Mall, Unirea Shopping Center, Cotroceni Park. www.musettegroup.ro
Nissa
A one hundred percent Romanian apparel brand for women with a modern-classical style in keeping with the latest international trends, but a very good price/quality ratio. There is a network of shops, most of them in malls, but also a flagship store close to Romana Square(39 Dacia Blvd.).
Unirea Shopping Center, AFI Palace Cotroceni, Cora Pantelimon, Centrul Comercial Feeria-Baneasa, Centrul Comercial Orhideea. www.nissa.ro
Petal
For a present that can be wrapped in a small, elegant box, try Petal jewelry. The brand is the brainchild of two friends who create petals of jewelry from porcelain and silver, transforming vegetal inspiration into everyday adornment. The central theme of the collection is reinventing the flower, a symbol that has been used in jewelry since ancient times. The fragility of the porcelain is supported by silver mountings, creating different flowers that can be worn as a brooch, pendant, earrings or cufflinks.
Online shopping at www.danatudorjewelry.ro
Sepala
The footwear brand Sepala, Mihaela Glavan's high-end line, embraces minimalism. Shoes are simple, with well-defined cuts and cutouts. The must-haves of the A/W collection are the over-the-knee boots and high platform shoes, which channel the sexy look, in parallel with low biker-inspired boots. Sepala Kids and RSM for men make the shopping experience one for the family.
9 Benjamin Franklin (Atheneum area). www.sepala.ro
Trend's by Adina Buzatu
A touch of refinement and an interwar atmosphere grace the first boutique dedicated mainly to men's apparel. Shoes from Ortigni, Magnanni and Bensimon, Albert Thurston braces, Borsalino hats, plus an impressive collection of cufflinks and ties are all on offer. From the classic casual and elegant designs of Messagerie to the progressive Babette Wasserman, the pieces are versatile and easy to match. But if you're not sure, don't hesitate to ask the owner, who is always pleased to help style you.
83-85 Calea Victoriei (Downtown boutique), Baneasa Shopping City, ground floor.
Venera Arapu
A mono-brand store with a distinctive interior design signature, fashion designer Venera Arapu presents a range of clothing from evening gowns to shirts and coats, all suited to strong and non-conformist women, yet endowed with refinement and elegance. A special surprise is the Vitrina pieces created and manufactured by students of the Bucharest Fashion Design Faculty under the designer's direct supervision.
59 Banu Antonache. www.venera-arapu.com
Unusual home ware
Atelier Anda Roman
Creativity meets a passion for beauty at this concept store, housed in an innovative, avant-garde space. Atelier Anda Roman is a subtle blend of innovative design, where items "converse and create emotions", to produce creative living rooms, dining rooms, bedrooms, children's rooms, office spaces, kitchens and even bathrooms. With products sourced from France, Belgium, Holland, England, Italy and even local producers and antique markets, the boutique showcases furniture, decorations, toys and fabrics, everything served with a green tea, coffee or gingerbread.
42 Grigore Alexandrescu Street.
Iconic Food Wine & Design
With a focus on classic, high-quality design, this airy and minimal outlet is nonetheless unselfconsciously warm and friendly. Housed in a discreet and elegant villa in the Aviatorilor area, this is a space where passion for aesthetics and rules of style prevail. Choose from unique interior design objects, gifts for the home, fashion and beauty items, wine and gourmet foods and, last but not least, a selection of books and magazines dedicated to relaxation. The showroom includes brands that are available in Romania for the first time, such as Fornassetti, Ingo Maurer, Palucco, Edra, Jars Ceramics, Lara Bohinc, Uncommon Matters and Hermes Vintage.
7 Aleea Alexandru, near Victoriei Square. www.iqonique-cs.ro
Petalia Christmas decorations
At Christmas we sing about the holly and the ivy, and shoppers who wish to add some floral color to their festive celebration, either at home or at the office, will find it here. Special Christmas arrangements express glad tidings for a joyous holiday season with a bounty of blooms. Bright red carnations, for instance, can create a splash of color on a bed of white cushion, nestled in a clear glass vase, tied with a scarlet red holiday ribbon and adorned with candy canes or other Christmas decorations.
Online orders at www.petalia.ro
Pierrot
Interior and garden ornaments, gift ideas and Christmas decorations all under one roof. This store stocks beautiful objects, carefully put together and inspired by various traditions. They bear the names of famous interior design companies from Italy and Germany such as Wald, Shan, Hoff Interieur and Drescher, found exclusively at Pierrot. The product range is wide, running from porcelain from the exclusive Villar collection, inspired by Italian baroque, to affordable products, both contemporary and traditional. The store is a rich source of gift ideas from scented candles and Swarovski crystals to traditional Christmas decorations.
1 Intr. Biserica Alba. www.pierrot.ro
Souvenir shops
Peasant Museum Souvenir Shop
Quality traditional peasant clothes, icons and naïve art, as well as artistically unique tapestries, wooden and glass icons, handmade metallic objects, tiles, vegetable thread knitwear, folklore dolls and souvenirs are all on sale, albeit at relatively high prices.
3 Sos. Kiseleff, near Victoriei Square
Romartizana
The gallery shop sells authentic folk art objects that showcase the values and traditional folklore of the old Romanian regions. Shoppers can admire and buy folk costumes, embroidered blouses (the English for the Romanian "ie"), raw silk headdresses, ceramics, wooden objects, woolen folk weaves, as well as useful handmade objects and interior design pieces, such as embroideries, knitwear, crocheted table cloths, lacy patterned fabrics, crocheted hangings and curtains.
16-20 Calea Victoriei. www.romartizana.com.ro
Souvenir Shop
Located in the Old Town area, this outlet has both Romania and Bucharest branded gifts, from postcards to T-shirts with funny messages, such as "Send more tourists, last ones tasted great" – signed by Dracula. The shop is open daily from 10:00 to 20:00.
5 Blanari Street. www.souvenir-shop.com.ro
Thomas Antiques
In this highly atypical souvenir shop visitors will find everything from furniture and paintings to clocks and decorations, all in a place where you can drink a coffee or a beer from an old chair or sofa.
19 Covaci Street. www.thomas-antiques.ro
Universitate Passage Souvenir Shop
This small souvenir shop is tucked in Universitate Passage, near the Tourist Information Center. Postcards, mugs, traditional items of clothing and small statuettes are on sale.
In between Nicolae Balcescu Blvd. and Regina Elisabeta Blvd.
Art
Artmark Christmas auction
While some art lovers choose to trot the globe, touring the world's best museums and admiring da Vinci's Mona Lisa at the Louvre,Paris, van Gogh's Starry Night Over the Rhone in Amsterdam or Monet's Water Lilies inNew York City, others prefer to view original paintings on their walls. For such people, Artmark ends the year with a Christmas auction at which Romanian painters' masterpieces will go under the hammer. The event will take place on December 19, starting at 19.30, at the J.W. Marriot. On sale will be paintings by Ion Theodorescu-Sion, whose work was influenced by Paul Cezanne, Paul Signac and Gustav Klimt, Dumitru Ghiata, Nicolae Grigorescu's nephew, Nicolae Tonitza, Theodor Pallady, Ioan Andreescu, Ion Theodorescu Sion, Rudolf Schweitzer-Cumpana, Alexandru Ciucurencu, Octav Bancila and Nicolae Darascu.
The items can be viewed until December 18 at Cesianu-Racovita Palace, 5 C.A.Rosetti Street. www.artmark.ro
Festive food and drink
Bacania Veche
The owner says that this grocery store aims to offer food with a story. The shop sells traditional Romanian meat, dairy products, wines, all sorts of preserves, in-season fruit and vegetables, unconventional kitchen implements, baked goods, as well as international products – all under the motto "no preservatives, no colorings or other chemical additives".
49 Barbu Vacarescu Blvd. www.bacaniaveche.ro
Camera din fata
Among old family pictures, thousands of pots with flavored tea (150 varieties to be precise), cups of coffee and, of course, coffee bags (over 25 types), visitors are transported back in time, as Camera din fata is inspired by grandparents' houses. Tea lovers may take their choice from among red, white, green, black, yellow, Japanese, Chinese and Indian blends, smoked, fresh and mixed teas and even unconventional combinations, while coffee is specially bought from one of the Romanian masters of coffee, the distributor of the Royal House of Romania, Mihail Florescu. There is also a selection of related gifts: mugs, cups, tea services, tea kettles, espresso machines and even homemade goodies such as jams and fruit syrup.
22 Mendeleev Street, near Romana Square
Boutique Comtesse du Barry
Upmarket delicatessen that brings a little French gastronomic savoir faire to Bucharest. All manner of edible and drinkable treats await, including smoked salmon, caviar and posh chocolates, not to mention a range of wines. If you have foodie friends and money to spend, you could do all your Christmas shopping here. Another outlet can be found in Baneasa Shopping City.
2-4 Episcopiei Street. Baneasa Shopping City 1st floor, 3 Mircea Eliade Blvd. www.lemanoir.ro
Delicateria Traiteur
Serves up gastronomic goodies from a delectable range of chocolates to sauces, condiments and oils, not forgetting soft and harder drinks, plus accessories such as coffee makers. For those aiming to be more virtuous over the traditional season of indulgence, there is also a selection of organic products. Orders are taken online with delivery promised within 24 to 48 hours.
11-13 Oltetului Street. www.delicateria.com
Leonidas
The famous Belgian praline – a chocolate layer covering a soft fondant center – is best known in Bucharest thanks to Leonidas, a world-renowned chocolate maker, which sells over 100 different kinds of Belgian chocolate through 1,400 outlets around the world. To mark the winter celebration, over 20 different Christmas chocolate figures can be beautifully wrapped and put under the Christmas tree, for those with a sweet tooth. On top of that, tea lovers can purchase Tea Forte special collections, such as Winter Spice Teas, the seasonal recommendation.
35 Calea Dorobantilor. www.pralinebelgiene.ro
Wine bars
Arte & Vino
While its Romanian language-only website makes Art & Vino a little less foreigner friendly, this is another business run by proper wine people. The bottles stocked come from Romania, Eastern Europe, the traditional wine-making nations of Western Europe and the New World.
2 Marasesti Blvd. (Carol Parc Residence). www.artevino.ro
Corks Cozy Bar
Bucharest's Old Center has a new spot for wine lovers who can select their tipple from a few hundred labels. The bar offers a menu of over 300 bottles, all of which can also be served by the glass. The selection includes both new and vintage wines. For wine collectors the bar sells anniversary and medal-winning wines, star buys, and wines from both the New and the Old World.
1 Bacani Street, Old City Center, entrance from Lipscani Street. www.corks.ro
Crama Murfatlar
Crama Murfatlar (Murfatlar Winery) stores can be found in almost all neighborhoods in Bucharest as well as in a large number of shopping centers. If choosing from the full range of the producer's varieties leaves you stumped, tasting is free and the vendors are there to offer advice.
35 stores in Bucharest
Ethic Wine
With an ethos of bringing quality wines to local consumers at sensible prices, Ethic has some bargain bottles (it also sells spirits and olive oil). The owners boast of having "the largest selection of Romanian wines in Bucharest", but the rest of Europe and the New World are also covered.
55 Banu Antonache, Piata Floreasca. www.ethicwine.ro
Iconic Food Wine & Design
The concept store owned by Camelia Sucu recently opened a retro-style wine bar in the basement of its beautiful villa. The paintings, small ornamental details and many wine bottles serve as talking points in this intimate environment. The wine list, which includes Bacchus liquor from France, Romania, Italy, Australia and Chile, is constantly updated. For a bottle of Bosquet des Papes from Chateauneuf du Papes, prices start from RON 200. Prices of Romanian wines vary between RON 70 and RON 30.
7 Aleea Alexandru, near Victoriei Square. www.iqonique-cs.ro
Lizar Tobacco & Liquor Store
Wines, liquors, cigars, cigarettes, pipes, narghile tobacco and other accessories can be the perfect present for the smoker or drinker in your life. And for Zippo collectors, the stores sell the entire range of the famous American wind-proof lighters.
34 Pipera Tunari Road and 3-5 Radu Beller, www.lizar.ro
Van Gogh wine shop
TheNetherlandsmight not be the main country you'd associate with fine wines, but the people behind Van Gogh café know their onions when it comes to quality food and drink. The expat hangout du jour sells a selection of bottles, which can be tasted on site along with some cheese, or delivered to your home.
9 Smardan Street. www.vangogh.ro
Vinexpert
Started by a group of oenophiles, the Vinexpert network stocks a range of top European wines and spirits, along with other high-end goods such as teas, coffees, chocolates and Cuban cigars. If you're stuck for inspiration, the website has a list of Christmas gift ideas. The chain also has mall outlets.
24 Octavian Goga Street. www.evinoteca.ro
Wine & Company
Classily decorated wine outlet whose bright lights tempt Lipscani revelers as they make their way home. Now, you can use the online ordering system, but the convenient Old City location makes it ideal for a post-drinks pop-in. The company also has a mall presence.
Strada Lipscani 28. www.wineandcompany.ro
The Winery Outlet
The Winery, part of the British company Halewood, has special deals on bubbly – ideal with the party season coming up – and other products. You can order online, and there's free delivery for orders worth over RON 200. The store stocks the entire range of wines produced by Romanian Halewood and another 179 imported wines – from Uruguayan Pisano and South African Simonsig to famous French producers like Hugel & Fils, Lupé Cholet and Gerard Bertrand. In addition to wines, the store also sells beer and liquors – for some Christmas flavor, you can choose ginger beer or cider.
Online orders at www.winery-outlet.com
Bookshops
Anthony Frost
Tucked away opposite the Kretzulescu Church, this little place has now been impressing local bookworms for several years now. Open until 20.00 on weekdays and with a central location, Anthony Frost is a good spot to pick up gifts for friends and family after work in one fell swoop, as its extensive stock runs the gamut from children's stories to the latest literary sensations.
45 Calea Victoriei. www.anthonyfrost.ro
Bastilia Librarium
The bookstore, which is located in a heritage building, the Gheorghe Petrascu House, comprises three floors, with each room dedicated to categories such as literature, science fiction and fantasy, children's literature and school books, dictionaries, history, religion, law, art and gastronomy. Last Letter, a work written by the Romanian poet Mihai Beniuc, leads shoppers to the "9th Sky," the name of the building's attic. Lines of the poem have been handwritten on the railing that leads up the stairs to the top floor where a coffee and tea shop and Afumeria (smoking area) have been transformed into an experimental place by drawings by the artist Ion Barbu and other surrealist decorations.
5 Romana Square. www.librariabastilia.ro
Carturesti
The capital's premiere book concept store, this multi-functional location – it is also a teahouse and a coffee shop – has the largest book, music and film ranges on the market. Currently it is also hosting a high-end gift fair.
13-15 Arthur Verona. www.carturesti.ro
Diverta
Its corporate identity means that Diverta is somewhat lacking in the cozy charm of some of its independent competitors, but it's a good place to stock up on stationery and also has a decent range of music on sale. If your Christmas gift idea is surprising a loved one with concert tickets, most major gigs have the store as an outlet. Diverta has closed its high street branches and now operates from malls.
Baneasa Shopping City, Jolie Ville, Unirea Shopping Center, Bucuresti Plaza, Bucuresti Mall. www.diverta.net
Kyralina French bookstore
Opened last month in the presence of the French writer Pascal Bruckner, Kyralina provides an authentic French cultural experience, for the purpose of personal enrichment and greater understanding of the diverse peoples of the French-speaking world.
8 George Enescu Street
Humanitas Cismigiu
In the newly refurbished historic Hotel Cismigiu building, Humanitas has opened a new outlet that respects the spirit and architecture of interwar Bucharest. One of the best bookstore chains in Bucharest, you can always find the latest titles here as well as your favorite works by world famous authors.
38 Elisabeta Blvd., www.humanitas.ro
Nautilus
Another long-termer, Nautilus heaves from floor to ceiling with shelves that are themselves bursting with books. Again, all major genres are covered, with its fantasy and sci-fi section particularly chock-full. Orders for out-of-stock titles can be made online. Games and other gifts (tarot cards, anyone?) are also on sale.
17 Arhitect Ion Mincu Street. www.nautilus.ro
Noi Bookstore – Dalles
It may have been eclipsed by younger and trendier rivals, but the grande dame of theBucharestbook scene offers an extensive selection – its site boasts that the shop stocks over 12,000 titles – with a good local interest section. The size of the place also means there is space to sit down and peruse the wares.
18 Balcescu Blvd. www.carti-anticariat.ro
Christmas fairs
Opened by Bucharest mayor Sorin Oprescu, the city's Christmas Market will run until January 3 next year. The market, set up above the recently opened underground parking lot in Universitate Square, hosts over 60 small stalls with traditional Romanian goodies and other products, as well as Christmas decorations and handmade presents. For children, there is the reindeer slide and Santa Claus' Grotto. The fair marks Bucharest's official entry into the international network of Europe's Christmas Markets.
Universitate Square.
Romanian Peasant's Museum
The Peasant's Museum regularly hosts a traditional Christmas fair with a local twist: craftsmen from all over the country, from regions such as Transylvania, Maramures, Oltenia, Moldova,Bucovina and Dobrogea, come to sell the best of their region's traditions. If you wish to sample old-school Romanian foods, such as cozonaci, sarmale and pork sausages, this is the place to go. The fair will be held from December 16-18.
3 Kiseleff Blvd. www.muzeultaranuluiroman.ro
Sala Dalles
The traditional fair at Sala Dalles will be open until Christmas Eve. It takes the form of a small shopping gallery where visitors can find all manner of gifts for loved ones: clothes, toys, jewelry, sweets, organic cosmetic products, Christmas decorations and candles, plus food and beverages, all beautifully wrapped. A cup or similar item engraved with a message can be a personalized present for someone special.
18 Balcescu Blvd
Santa Claus' Bag
Festive shoppers will find stands full of Christmas gifts, such as decorations, books, music and movies, photo albums, games and toys, cosmetics and food. This Winter Gifts Fair features both indoor and outdoor stands.
Bucharest Mall, Plaza Mall. Until December 23