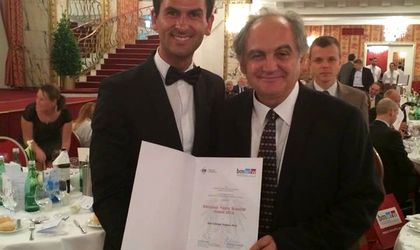 Dan Vodnar, a young scientist of the Romanian city Cluj-Napoca  has become the first Romanian to receive the Danubius Young Scientist Award, the 2014 edition, writes Agerpres. Vodnar will receive a EUR 1,200 grant, according to a press release from his university.
Dan Vodnar is the creator of an anti-microbial packaging derived from gastropod shell, algae and other natural ingredients. The packaging designed by Vodnar and his students is made up of natural polymers extracted from gastropod shells and algae to which biomolecules of green tea, basil, mint and other herbs are added. Vodnar conducted thorough research of the inhibitory effects of the packaging on listeria-contaminated meat.
'Meat contamination can be strictly surface deep, it cannot come from the inside and it is contamination subsequent to cooking. Producers add many preservatives that act as anti-microbial agents. But my question was why add so much preservative when the human body does not need it,' said Vodnar.
The scientist has also invented anti-microbial labels for fruit and vegetables and is currently working on packaging that would cover the whole fruit or vegetable, designed especially for products that are traded without their natural shells or that have to spend a lot of time on the shelves.
As for a practical application of his invention, Vodnar says that there have been two-three companies, one for the US and one from Germany, having voiced interest in the manufacturing of the anti-microbial packaging invented by the Romanian young scientist. No clear decision to invest has been made given the costs of production lines. Furthermore, the science team lacks a marketing person to promote their invention.
'I am taking care of research and I have neither the time nor the skills to go talk to producers or people dealing with supermarkets. Should there be someone to deal with this area of marketing, it would be much better,' said Vodnar.
The Danubius Award prize is awarded each year to scientists for special results in the countries that are included in the European Union Strategy for the Danube Region, namely Austria, Bosnia and Herzegovina, Bulgaria, Croatia, the Czech Republic, Germany, Hungary, Moldova, Montenegro, Serbia, Slovakia, Slovenia, Romania and Ukraine. Each country nominates only one scientist for the award, selected by an international judge panel.