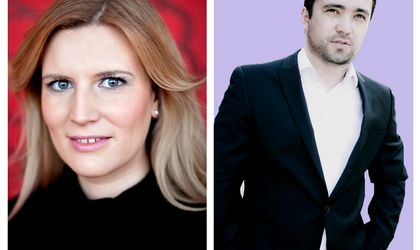 Young Leaders Club and Golin have partnered to offer young entrepreneurs the possibility to create start-ups and bring their business ideas to the market, by offering them access to the pre-accelerator program Tech Leaders Lab. Today, five such start-ups, Serafim Technologies, Sport Explore, Front Desk, StrAIke, and CREDIBO pitched their ideas in front of stakeholders and diplomats, in a bid to raise funds and find partners.
The 5 companies that offer hi-tech solutions for improving services and performances in sectors such as mortgages, agriculture, hospitality, sports or media & advertising have presented their business plans and objectives to potential investors and partners, during an event also attended by His Excellency Hans Klemm, US Ambassador to Bucharest, and Her Excellency Isabel Rauscher, Ambassador of Austria to Bucharest, alongside representatives of the German and Swedish Embassies.
Because we have such a great partnership with Romania we want a strong and prosperous Romania. The economic growth that we see in Romania is very welcome., said US Ambassador Hans Klemm. The sponsorship we see is very supportive of long term sustained growth and I believe we should take lessons from the US, to see risk taking and a willingness to fail as a part of the success, the US diplomat added.
"Our organization's mission is to identify creative and visionary minds, with ambitious ideas, that want to make a difference through technology, to prepare and connect them with a global network of specialists who can become their mentors or who can provide them with the necessary funding for developing a successful business. The graduates of this edition of the program are now prepared to make the best decisions on how to lead their company forward and what partners to choose", said Florin Grosu, President, Young Leaders Club.
"We have built this program with an ambitious goal: to support the development of the Romanian business environment, bringing together top companies, leaders and mentors, investors and brave start-ups. Such initiatives need more visibility in order to have a long-term impact, and Tech Leaders Lab is an excellent opportunity to build synergies between partners that have a common goal – to generate innovative solutions for solid business results", said Irina Roncea, deputy managing director, Golin.
Tech Leaders Lab provides to the participating start-ups, during a 3-month program, access to mentors and know-how from top global investors by connecting them to an international network of business accelerators, as well as to possible funding sources. In the first phase, 72 business ideas from Romania and Moldova were analysed, the top 10 teams being selected to enter in the 2017-2018 edition of the pre-accelerator. They have received the necessary support to develop their product, and 5 start-ups have already graduated the program, their solution targeting at least a regional market.
Serafim Technologies has developed an AI-based solution for agriculture which provides farmers with useful information on the state of crops and helps them reduce costs and maximize their performance. The solution ensures a decrease of disease- related losses by up to 70 percent, as well as a 40 percent reduction in the use of chemicals.
Front Desk offers an integrated management software solution dedicated to the hospitability industry. The entire system is Cloud based and is integrated with the major booking platforms.
StrAIke revolutionizes martial arts training through an AI-based solution that helps athletes train smarter. With wearables and Internet of Things technologies, users have access to information about their performances and can identify the areas they need to improve.
CREDIBO is an automatic digital broker that helps buyers find the right mortgage solution. Customers can manage their online mortgage application in record time.
Sport Explore offers a software solution which is very useful especially for the media & advertising market. Using machine learning, the solution generates detailed, easy-to-read and real-time reports regarding the branding during sports programs.