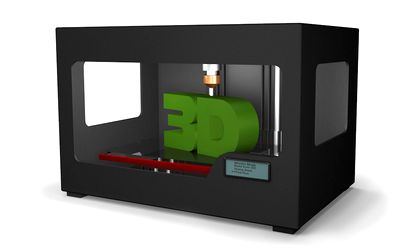 A young software maker has created the first Romanian 3D printer, built entirely of components acquired from the domestic market, reports Agerpres.
Calin Brandabur presented his prototype, which has a 5-time higher printing speed than a similar printer existing on the market, at  Techsylvania, IT event held early this week in Cluj-Napoca.
The printer can print objects reaching a maximum of 20 centimeters in height in 4-5 hours, while a similar printer needs 8 hours to make such a piece.
"A classic Cartesian printer takes 8 hours to print an object, while our printer only needs 4-5 hours. We also improved the software and the hardware, we tried to upgrade as much as possible the speed and performance. We can increase the speed very much, without causing a vibration, due to the Delta system we used to build the printer, which also makes it so high-performing," said Calin Brandabur.
The improvements that were brought to the old model allow the new model to print at a speed of 1,000 mm/sec, while a similar printer existing on the market would print at a speed of a 200 mm/sec.
The team that created the Symme3 model of a printer used entirely Romanian components.
The device can be used including for creating orthopedic devices or special arms for children, in the context in which the ones that are used at the present are very expensive and they also need to be changed every six months.
Staff