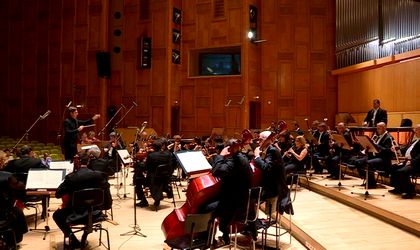 The Romanian violinist Alexandra Bobeico (18), the Swiss cellist Chiara Enderle (22) and the Russian pianist Alexander Kutuzov (18), all of them winners of prestigious international competitions, will make proof of their virtuosity by performing each a concert dedicated to the instrument they play.
Chiara Enderle and Alexander Kutuzov received the award granted by EMCY – the European Union of Musical Competitions for Youth, while Alexandra Bobeico won the 1st Prize and the Best Performance Prize at the Concertino International Competition, Prague, a contest organized by the Czech Radio in collaboration with the European Broadcasting Union.
ROMANIAN RADIO NATIONAL ORCHESTRA -GABRIEL BEBEŞELEA
Conducted by GABRIEL BEBEŞELEA
Soloists: ALEXANDRA BOBEICO – violin
CHIARA ENDERLE – cello
ALEXANDER KUTUZOV – piano
W. A. Mozart: Violin Concerto no. 3 in G major, KV 216
R. Schumann: Cello Concerto in A minor, Op. 129
S. Prokofieff: Piano Concerto No. 2 in G minor, Op. 16
The event takes place on March 27, from 19.00, at the Romanian Radio Hall. The event is broadcast live by Radio Romania Cultural and Radio Romania Musical stations and online on these radio stations' websites.
Tickets are available on www.bilete.ro, from the offices of the Romanian Postal Company, the Inmedio shops Bilete.ro, the Germanos retail chain and the Romanian Radio Hall box office.
Tatiana Lazar