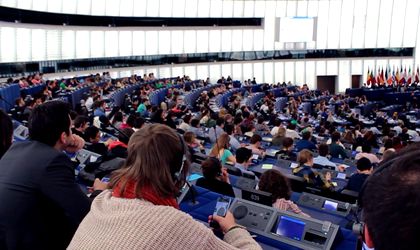 Over 7,000 Europeans aged 16-30 came together last week at the European Parliament in Strasbourg, France, to exchange ideas on youth-related issues. European Youth Event (EYE) attendees took part in panel discussions on four major topics: European values, youth employment, the digital revolution and sustainability.
Oana Vasiliu
[restrict]
They also shared their ideas on the future of Europe with politicians, journalists and other decision makers, with all the input going into a report that will be handed to newly-elected MEPs during their first plenary session in July.
One of the hottest topics at EYE was youth unemployment, with 5.4 million young people currently looking for a job in EU member states, although there are 2 million vacancies, noted Stefan Jahnke, president of the Erasmus Student Network. According to Yannis Darmis, head of the EU media services and monitoring unit, one in four Europeans under the age of 25 are out of work, with the rate rising to one in two in the worst hit countries. Androulla Vassiliou, commissioner for education, culture, multilingualism and youth, struck a positive note, arguing, "The most serious problem that we face in Europe is youth unemployment, but we know for sure that by 2020, there will be 900,000 digital jobs vacant." Youngsters themselves can effect change, said Peter Matjasiac, president of the European Youth Forum. "If you want Europe to be democratic, you need to vote. If you don't vote, someone else will vote instead and that someone most likely won't care about mobility programs, quality education, or your rights or needs as a young person," he warned.
"The most important thing is that young people have a say on the EU and can participate and contribute on an eco-basis with all the players, because this is going to be their future, their reality in the coming years," added Gras Leszek, head of the EP visits and seminars unit. Asked why he was participating in the event, Greek Nikos Baldiris, 31, said, "I believe that Europe is at a very critical crossroads: it will either become a federation or fall apart. We should fight to make the EU a federation. But in order to get there, we have to communicate with each other, know the other nations, their specifics and culture. This way people will become closer."
Statistics show that most countries expect a turnout of close to 30 percent for this month's European Parliament elections. "One of the main reasons why people don't vote is lack of information. We want to provide them with this information, make them understand how Parliament works, what are its competences, what is the daily impact on their lives," said Aleksandra Kluczka of AEGEE Europe – European Students' Forum.
EYE involved three days of debate between young people, who came up with proposals including stronger legislation to protect trainees, uniform EU election rules and better education on European affairs. The event included more than 200 workshops and seminars involving 180 speakers and MEPs, exchanging ideas on Europe's future direction.
Photo courtesy of Natasa Vidakovic
[/restrict]