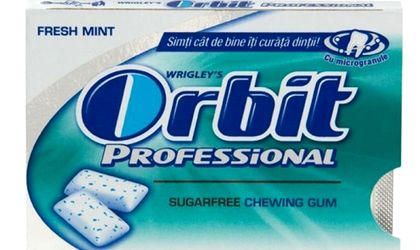 After announcing earlier in the week that it is going to rebrand its Orbit chewing gum under the new Extra name; Wrigley later added that the change will only be applied in the United Kingdom and Ireland, writes Mediafax.
"This brand will be renamed Extra only in the United Kingdom and Ireland and the measure will not affect the Romanian market. Here, Orbit continues to be the most important and well loved brand in the Wrigley portfolio", the company said in a press release.
Wrigley announced it would incorporate its Orbit brand into the Extra range to help drive sales and will also launch soft chew options to appeal to younger consumers.
The marketing campaign to promote the change will cost GBP 15 million, but the product itself will not change with the exception of adding a couple of new flavors.
Wrigley's is headquartered in Chicago, Illinois, employs approximately 17,000 associates globally, and operates as a subsidiary of Mars, Incorporated. Based in McLean, Virginia, Mars has net sales of more than USD 30 billion, six business segments including Petcare, Chocolate, Wrigley, Food, Drinks, Symbioscience, and more than 70,000 Associates worldwide.