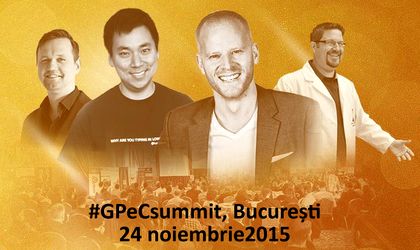 Six of the most well-known international gurus in digital marketing and e-commerce conversion rate optimization will join GPeC Summit November 24, the most important e-commerce event in Romania: Oli Gardner (Co-Founder Unbounce), Larry Kim (Founder WordStream), Brian Massey (Founder Conversion Sciences), Viljo Vabrit (CEO ConversionXL Agency), Omri Yakubovich (Founding Member & Head of Marketing Commerce Sciences) and Etienne Bostsarron (VP New Customer Relationships Orange). GPeC Summit November 24 will gather the key e-commerce and online marketing companies and people in Romania and Central and Eastern Europe.
The autumn GPeC Summit November 24 will mark 10 years of existence for GPeC – the most important e-commerce event in Romania and the biggest national online shops community. For 10 years, GPeC was focused on developing and supporting the Romanian e-commerce market, on representing the Romanian e-commerce industry and on enforcing best practices for online shops in order to ensure best possible client service. Just like every year, GPeC Summit's speakers are digital marketing and e-commerce gurus, most of them for the first time in Romania.
Oli Gardner is the co-founder of Unbounce – one of the most appreciated and used A/B testing tools in the world – and one of the most well-known experts in conversion optimization at an international level. Oli believes the successful recipe in growing your conversion rate lies in the perfect mix between data and design (user experience), together with quality customer service. Oli says that he is not only passionate about optimising evey single element in any landing page, but that he has also seen and analysed more landing pages than anyone else in the whole wide world. Therefore, Oli is seriously considering changing his full name officially from Oliver Gardner to Landing Page.
Larry Kim was named the the most influential PPC expert in the world in 2014 and 2013. At the same time, his name can be found in the Forbeslist of the top 10 influential online marketers worldwide. Larry is the founder of WordStream and the author of 4 software development books and various articles written for well-known specialised magazines and blogs in the industry: Search Engine Journal,  Marketing Profs, Search Engine Watch, Small Biz Trends, Search Engine Land, Forbes Magazine, Online Marketing Institute, MediaPost, Marketing Land, Hubspot, Moz, Social Media Today, LinkedIn etc
Brian Massey is the founder of Conversion Sciences and the author of the Amazon bestselling book "Your Customer Creation Equation: Unexpected Website Formulas of The Conversion Scientist". Brian has over 20 years of experience in optimising online presence and conversion rate, considering this to be "the art of growing your revenue without paying more for traffic". Brian constantly shares his personal experience by writing on The Conversion Scientist blog and his articles can also be found and read in the famous specialised online websites ClickZ.com, Search Engine Land, Marketing Land and Content Marketing Institute.
Viljo Vabrit is the CEO of ConversionXL Agency, agency that he leads together with his business partener – Peep Laja. Viljo is an expert in conversion optimization and the company he runs has impressive clients in its portfolio, some of which are J.W. Marriott, Kaspersky, Iron Mountain etc. ConversionXL Agency's promise is short, sweet and simple: "We will make you TONS more money", therefore Viljo will share with GPeC audience the surefire way to growing your online sales.
Omri Yakubovich is the Founding Member and Head of Marketing at Commerce Sciences, a Web Personalization company backed by Google's chairman Eric Schmidt helping over 1000 online retailers to dramatically increase conversion rates. Omri is a Conversion Rate Optimization thought-leader and a contributor writer for top industry magazines including Crazy Egg's blog, Shopify's, Social Media Today and many others.
Etienne Bostsarron has over 25 years of experience of customer relationships across markets and segments.  He has joined Orange in 1991 where he had various roles in B2B data and internet network sales and marketing, for SMEs up to key multinational accounts. In 2009, he has joined Orange European headquarters to develop strategic initiatives in the area of Customer relationships for the B2C. He is now VP New Customer Relationships for Orange group, in charge of Customer Experience strategy and Digital Experience.
Apart from the 6 international experts, top local e-commerce players will also be present at GPeC Summit November 24. The GPeC Summit November 24 agenda has been published here and it includes key speakers like Iulian Stanciu (eMAG CEO), Catalin Cretu (Subregional Manager VISA Europe – Romania, Croatia, Slovenia), Dorin Boerescu (CEO 2Performant), Horia Grozea (Card Payments Director mobilPay), Valentin Radu (Marketizator CEO), Dan Virtopeanu (Managing Partner Breeze Mobile), Ela Moraru (Industry Manager Google Romania), Alex Lapusan (CEO Zitec), Felix Patrascanu (Managing Partner FAN Courier) and Lucian Aldescu (CEO DPD Romania).
GPeC Summit will take place on November 24 2015 at Crystal Palace Ballrooms during the 9:00 AM – 6:00 PM timeframe. The summit will be followed by GPeC E-Commerce Awards Gala, which will start at 7:30 PM and will announce the winners of the year in Romanian e-commerce.
Tickets for GPeC Summit & GPeC E-Commerce Awards Gala November 24 are available for sale on GPeC's website here: http://www.gpec.ro/inscriere-gpec-summit-noiembrie-2015/