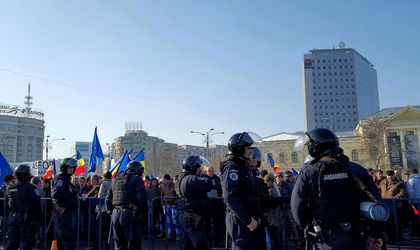 After a tumultuous start to the year, with high timber prices raising concerns for Romanian furniture producers and the director general of the Romanian National Forest Agency (RNP Romsilva) handing in his resignation, around 3,500 representatives from the wood processing industry have taken to the streets to protest against the high timber prices.
Saying that Romsilva's "decision to raise the minimum auction starting prices by 300 percent" has blocked their activity, Ciprian Musca, president of the Bucovina Association of Foresters, added that "we want prices to go back to normal, to what they were at the end of last year", according to Mediafax. He voiced the protestors' demand for "a purchase contract that would represent a partnership, not just one with responsibilities and sanctions for timber buyers", referring to the framework contract between timber buyers and Romsilva.
The representatives of the wood processing industry also called for the urgent adoption of decisions that would allow "real access to the timber resource", changing the purchase contract with Romsilva, and rescheduling those auctions where less than 50 percent of the volume on offer was sold, with starting prices at the 2015 level, further added Mediafax. These demands are essentially the same ones expressed two weeks ago at a press conference organized by the Romanian Association of Furniture Producers (APMAR).
Regarding the auctions, the Ministry of the Environment, Waters and Forests (MMAP) has said that "following the many alarm bells from the economic entities involved in the timber auctions, but also following an analysis of the results of the first such auction, the Ministry has noticed that these auctions did not have the desired outcome", according to a press release.
In order to unblock the market, MMAP asked for a new point of view from the Competition Council regarding how reference/starting prices are set. The Competition Council ultimately recommended that the reference price be set according to "the knock down price at the last auctions on the same species, accessibility degree, varieties and exploitation technology", says the MMAP press release, with the mention that the Ministry has sent the Council's recommendations to RNP Romsilva so that "the economic activity in this industry can be normalized".
Andreea Tint