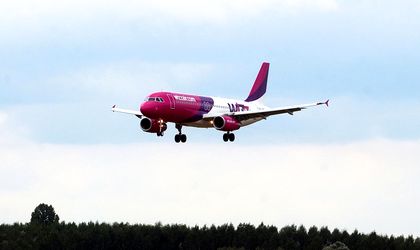 Low cost airline Wizz Air will operate 19 additional flights per week to and from Romania starting July 4th after it will deploy the seventh Airbus A320 aircraft to its Bucharest base, the company has announced. This takes Wizz Air's total investment on the Romanian market to USD 1 billion, said Gyorgy Abran, the company's CCO.
The additional flights will be mostly to destinations in Italy and Spain but also to London and Paris which the company says are the most demanded during the summer peak season.
This year the airline plans to reach 3.3 million passengers in Romania, up by 600,000 y-o-y. Out of this 1.8 million passengers should be reported in Bucharest alone. The number of passengers reported in Romania has grown constantly over the past years, at a faster rate than the company's overall average, said Abran, adding that the trend is expected to continue.
In 2012 the company carried 12 million passengers, up from 10.7 million the previous year. The figure should reach 13.5 million in 2013. Hungarian Wizz Air has 16 operating bases in 9 CEE countries and operates flights on over 270 routes to 94 destinations in 33 countries. The company runs a fleet of 43 Airbus A320 aircrafts and some 1,600 employees.
In Romania it has 4 operating bases and runs a fleet of 12 aircrafts from 6 local airports.
Read an interview with Gyorgy Abran in next week's print edition
Simona Bazavan