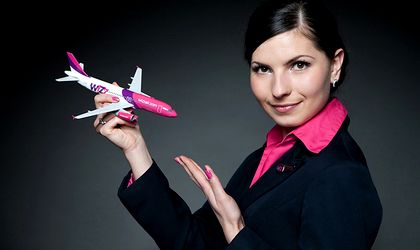 Wizz Air will operate the new A321ceo airbus in Romania this year, an aircraft with a capacity of 230 places, company representatives inform. At the moment, flights are operated with A320 and A321 aircrafts (180 and 230 places, respectively).
With a 16 percent increase in the number of passengers in 2015 over the previous year (4.5 million in 2015 versus 3.9 million in 2014), the company expanded in Romania both in terms of air bases and aircrafts.
Wizz Air announced the opening of its 23rd base in Iasi, which would become operational this summer, in July 2016. The company is active locally in eight airports and offers 107 routes to 16 countries.
Among routes that have been launched in 2015 from Bucharest lead to Glasgow, Birmingham and Hamburg. From the Cluj-Napoca airport routes go to Dubai, Munchen-Memmingen, Alicante, Billund, Doncaster/Sheffield and Berlin. The newest routes leaving from Iasi are towards Bologna, Larnaca, Roma and Tel Aviv. In March, the company launched a route from Constanta to London Lutton, while Targu Mures incudes arrivals such as Karlsruhe/Baden-Baden, Dortmund, Frankfurt Hahn and Munchen-Memmingen.
Across its global network, Wizz Air transported 19.2 million passengers, a 22 percent increase from the 15.8 million registered in 2014. The company also listed on the London Stock Exchange in 2015.
Wizz Air operates a fleet of 65 A320 and A 321 airbuses across Central and Eastern Europe. Offering over 400 routes from 23 bases, the company connects 118 destinations in 38 countries. Wizz Air employs 2,600 globally.
Natalia Martian