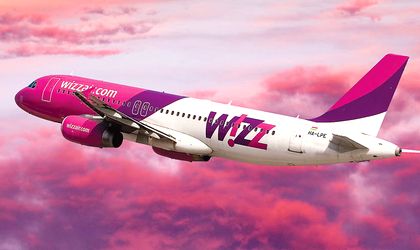 Wizz Air, Hungarian low-cost carrier, announced the opening of two additional routes for 2016, a domestic one from Bucharest to Cluj-Napoca beginning July 22, 2016, and an international one from Bucharest to Budapest, Hungary, as revealed at a press conference on Tuesday.
The company will organize six weekly flights from Bucharest to Cluj-Napoca, every day except Saturday, and prices for a one-way ticket will start at RON 39, with the mention that "when it gets closer to departure time, or there are special events or higher demand, maybe in the summer peak, prices will go higher", according to Gyorgy Abran, Wizz Air commercial director. When asked when the best prices would be available, Abran advised travelers to "buy early, and that will lead to the lower price".
The Wizz Air low-cost flight to Cluj-Napoca would provide an alternative to Tarom, Romania's national airline, which is currently the only option available to travelers from Bucharest to Cluj-Napoca besides train, bus or car. "On the domestic route specifically, given the short route and the relatively lower cost, even the average price would not be high, it would be very competitive compared with another carrier, the train, the bus, or the car", added Abran.
In terms of the type of travelers Wizz Air is expecting for the new domestic flight, "it will be a favourite of students and others who are travelling frequently between the two biggest cities of Romania", said Abran. Furthermore, in terms of traffic, "Bucharest is the biggest base in Romania, and Cluj is the second, so it makes sense to link them since we have very high traffic in both places", added Abran regarding some of the reasons for the new domestic route.
The addition of the Bucharest – Cluj-Napoca and Bucarest – Budapest routes follows a string of recent additions to the Wizz Air network, with Abran saying that in the past year they added "around 20 new airports", including several routes to the UK, Spain and Germany.
Wizz Air also plans to expand its fleet in Romania, with Bucharest having eight aircrafts from May 2016, half of which will be A321ceo, "the longer aircraft, with more seats, 230 versus the A320 which has 180 seats", according to Abran. The company acquired its first A321ceo aircraft in November 2015, and plans to take on more throughout 2016, since it is a "much more efficient aircraft, able to deliver a lower unit cost, which in turn means lower fares for customers", added Abran.
Andreea Tint