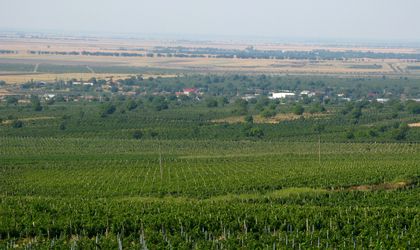 Following a couple of years which saw the local wine market shrink to about EUR 350 million, Romanian winemakers are more optimistic about 2012, forecasting a total growth of between 5 and 10 percent. Moreover, rising exports and an increase in local consumers' appetite for premium varieties are further reasons for players to raise a glass to their future health.
Simona Bazavan
It is hard to sell quality Romanian wine abroad when so little is known about it or, even worse, it is often associated with a bad country image, complain local winemakers.
Nevertheless, in the past couple of years Romanian wine producers, especially the increasing number of newly established small wineries specialized in premium varieties, have had no choice but to turn to exports against a decreasing domestic market.
But now the situation is changing. Local consumption is expected to pick up this year, in particular that of premium quality wine, producers agree, and Romanian winemakers are voicing bolder plans for exports.
"After two or three years during which the market was relatively flat, this year it will see a slight increase, generated, rather surprisingly, by the premium segment. The only segment where we don't see a positive outlook is that of imports," Ciprian Rosca, commercial director at Cramele Recas, told BR.
Another local producer, Halewood Romania, estimates that the market reached some EUR 400 million in 2011 and this year it will grow by between 5 and10 percent. "We expect to see an increase in consumers' preference for quality wines," Adriana Grecu, marketing and export director of Cramele Halewood, told BR.
However, not everyone agrees that 2012 will turn out to be a year of growth for the local wine industry. "I personally believe that the Romanian wine
market is dropping in both value and volume. The good news is that the premium segment is growing," Aurelia Visinescu, co-owner of Domeniile Sahateni, told BR, adding that despite this outlook, her firm hopes to see a 60 percent increase in the value of sales this year.
"What we're seeing is a migration of consumers from the mainstream segment to the low end following the decrease in purchasing power. At the same time there has been an increase in premium consumption as consumers mature," she added.
Romanians acquire a nose for premium wine
An important change last year was that while, overall, Romanian consumers didn't spend more on wine than in 2010, more of them chose quality products, said representatives of the Vine and Wine National Employers' Union (PNVV). According to the PNVV, in 2011 Romanian winemakers reported sales increases of between 9 and 20 percent for wines priced above RON 12 (approximately EUR 2.8) per 0.75 liter bottle. And this trend is expected to continue throughout 2012, producers say.
The most encouraging signs come from the premium segment, stressed Rosca. In his opinion, this is only normal as local consumers are reaching a certain maturity and are refining their choices. Moreover, in recent years wine has been getting more attention.
Specialized events dedicated to its promotion are being organized, such as wine tastings supervised by sommeliers and food and wine pairings, which contributes to the popularity of premium wines among local drinkers, he said.
As for premium wines' share of the total market, if defined as those varieties priced between RON 40 and RON 75 per 0.75 liter bottle, then their share represents less than 5 percent of the entire market, while the super-premium segment of wines priced above RON 70 is insignificant, said Rosca.
"The number of wine consumers has gone up and they are more preoccupied by the quality of the wine they drink and are becoming more selective. While a few years back, imported varieties were most popular, now demand for Romanian
premium wines has gone up and so has the range," Ioana Micu, executive manager of Amb Wine, which has recently launched the Liliac brand of premium wines, told BR. The Austrian investor is latest newcomer on the market and estimates sales of about EUR 180,000 for this year.
Romanian consumers are also beginning to show a clearer orientation towards brand and producer, said Grecu. "Semi-dry wines have gained ground against semi-sweet and sweet varieties. However, white wines continue to be preferred. Last year Romanian drank more quality wines, which leads us to believe that the trend will continue in 2012," she added.
Uncorking external markets
Romania has the required ingredients to brand itself and become globally known as a wine producer, but has so far failed to do so. However, this has begun to change in the past few years, albeit slowly and through the effort of individual producers rather than through a coherent national strategy in this direction.
"The general image abroad is that Romania produces cheap and bad quality wine. This may have been true some years ago but since then several smaller wineries have appeared that produce high quality varieties which can easily compete with wine produced by renowned wine-producing countries such as France, Italy and Spain," Mircea Niculescu, sales director at WineRo, told BR.
Foreign consumers generally expect Romanian wines to be cheap and of average quality but in spite of this, their reputation has certainly gone up in the past year, although not enough, said Micu. "First of all it is important to start with promoting Romania as a wine-producing country, so we can then move on to promote regions and the individual producers there. As an individual brand it is very hard to enter foreign markets," she said.
"Romanian wines are starting to enjoy greater fame abroad. I was quite surprised to discover how much the interest of importers in local varieties has grown. This is the result of privatization in this industry, the considerable increase in quality following investments in both wineries and vineyards using EU funds," explained Visinescu.
Among the hurdles to exporting she mentions the almost total lack of subsidy, both for production and for stimulating exports, from which many competing countries benefit, and also the lack of a coherent national strategy. "But probably the greatest setback is Romania's negative image abroad, especially in Europe," she stressed.
Despite these problems, and the fact that the domestic market is expected to grow, local producers say they want to intensify their international presence.
Domeniile Sahateni targets growth both on the internal market and of exports but estimates that, overall, exports will grow their share compared to last year and generate more than 50 percent of the company's sales in 2012.
After having exported so far mainly to Asia and Europe, this year the company plans to enter the US market.
The winemaker reported a turnover of EUR 1.2 million last year and hopes to grow it to EUR 2 million in 2012.
Elsewhere, Cramele Recas estimates it will increase sold volumes on the local market by about 12 to 15 percent and post an even greater boost in exports.
Overall, exports will generate about 18 to 20 percent of the wine producer's sales this year, 3 to 4 percent up on 2011, says the firm.
Over the coming years the company wants to boost exports to the USA and focus on the HoReCa segment in the UK. Cramele Recas reported a turnover of EUR 18 million last year, up 25 percent y-o-y, and hopes to see it rise by another 20 to 22 percent in 2012.
Halewood, meanwhile, plans to maintain a balance between exports and the internal market, but last year reported volume increases in the UK, Germany, China, Poland and Holland.
WineRo, which locally produces the Aliman wines and also imports the Enira brand produced in Bulgaria, released its first wines in 2009 and says that this year it will focus on extending its product portfolio on the domestic market and start exports. WineRo will also release a variety for the large retail networks. Amb Wine wants exports to make up 40 percent of its total sales within in the next few years, up from 25 percent this year.
All in all, the local wine industry has been getting a lot of attention in the past few years from local and foreign investors as well as high-profile local businesspeople like Jean Valvis. Even the central bank's governor has set up a winery of his own.
How the mighty have fallen
Despite the positive outlook, the economic context has taken its toll on the wine industry too. Murfatlar, the largest wine producer in Romania, entered voluntary insolvency this March.
The announcement came as a surprise but Murfatlar representatives said that the step was necessary due to cash flow problems.
"The main consequence of the slow financial recovery rate – a general characteristic of the business environment at present – is that it makes it difficult to pay off outstanding debts," said Cosmin Popescu, the company's GM.
Popescu said the insolvency procedure would not affect the winemaker's objectives and development plans. "Murfatlar Romania will develop its existing business lines, counting both on the development of the Crama Murfatlar network of wine stores, as well as the launch of new products," he added.
After reporting RON 140 million (approximately EUR 33 million) of sales in 2010, Murfatlar saw its turnover hike to RON 180 million (approximately EUR 42.5 million) last year. The growth came from expanding the network of wine stores to 125 outlets.
This year, too, the company predicts its sales will go up. "We hope to surpass the RON 200 million benchmark. The growth will come from the maturing of the Crama Murfatlar network but also from another project which will bear fruit this year," said the GM.
Last year the company invested EUR 550,000 in opening a new winery for premium varieties which will bear the signature of Razvan Macici, a Romanian oenologist famous for being the cellar master of the Nederburg winery in South Africa.
Since 2007, Murfatlar has invested EUR 15.6 million, including EU funds, in replanting 975 hectares of grapevine. EUR 2.1 million was spent last year, and another EUR 1.8 million will be invested this year – 20 percent of which will come from the company's own funds.