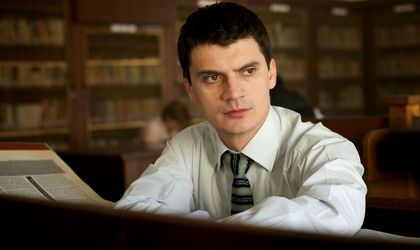 Inspired by real events in Romania in the early 2000s, namely the suicide of Cristian Panait, Why Me? is a grim story of disillusionment. Cristian, played by Emilian Oprea, was an idealistic young prosecutor who attempted to unravel a tangled case of corruption in a chaotic social and political time. The star of the film told BR about the challenges of bringing a tragic event in Romania's recent history to the big screen.
By Tatiana Lazar 
You're primarily known as a stage actor. Was the transition from theater to film difficult?
It's not necessarily a shift from theater to film because I continue to do theater. But I believe film should be a natural thing like any other acting process, theater, film or dance. I cannot say that I will be focused on one of these areas, but I can say that I will not give up theater.
How were you cast in the main role of Why Me?
I didn't audition. Tudor Giurgiu had previously seen me in The Pillow Man (Omul perna), a play that was selected for the National Theater Festival, while he was looking for actors for Of Snails and Men (Despre oameni si melci). For that movie, I auditioned for a supporting role and they invited me to try out for the main character, but I looked too young. So I asked for a smaller role and it was a hard decision for Tudor, as (actor) Andi Vasluianu was young too, and the characters didn't fit with the script. Then Tudor invited me for drinks and I was a bit angry because I wasn't in the cast of Of Snails and Men. Very calmly and seriously, Tudor offered me the main part his next movie. Afterward he gave me some papers and a CD. First, I thought it was a relaxed meeting where we were drinking and chatting to get to know each other, but then I realized that things were pretty serious. I didn't know about the case of the prosecutor Cristian Panait because back then I was in a theatrical bubble and nothing could reach me except theater. After reading the materials that Tudor gave me, I called some friends, some lawyers and some police officers, to find out more. This is how the story started.
How did you get under the character's skin?
Tudor was very supportive and gave me several papers on the case, but I also talked to an ex-girlfriend of the prosecutor, some students from the university where he used to teach and to another prosecutor, who was one of his colleagues. Everyone was open-minded and willing to talk to me and tell me what Cristian was like in his private life. From a professional point of view, I already knew Cristian was an exemplary man, a wonder-child of the Romanian justice system. What was interesting to me was the fact that the more I found out about him, the worse I felt because I empathized more and more with him – too much, some might say. When we screened the film at the National Peasant Museum, a judge told us that what happened to Cristian Panait would no longer be possible, as the Romanian justice mechanisms have improved, which made us realize Cristian's story must be well known and compared with what's happening now.
What was the most difficult scene in the movie?
There were plenty. One was when Cristian decides to take action regarding the prosecutor Alexandru Lele. Another was the last week of shooting, when we moved to Cristian Panait's house. There were difficult moments because I knew that he'd been alone, while I was surrounded by people and still driven by mixed feelings. I tried to understand what had happened in those 20 days to change a strong man into almost a wreck, who was eventually driven to kill himself by throwing himself off the fourth floor in front of the church, even though he was very Christian. Nobody knows what happened and this is why I feel so sorry for him and I regret not knowing him when he was alive.
What was it like working with Tudor Giurgiu after your previous experience with Radu Afrim?
Tudor protected me during shooting and very much took care of me, acting like a big brother. We worked very well together and I hope we will go on to shoot other movies together. My relationship with Radu Afrim was, is and will always be explosive. When we have to work on a new performance, things become rather difficult because Radu is very demanding in a very positive way, focusing on every character, from posture and habits to how a feeling must be transmitted to the audience.
You also appear in Self-Portrait of a Dutiful Daughter, directed by Ana Lungu, which was shown at the Rotterdam Film Festival. What's next?
2014 was indeed a good year for me, both professionally and personally. Self-Portrait of a Dutiful Daughter made an impression at Rotterdam and I am now waiting to see the Romanian public's reaction. I have also finished shooting a short, The Messenger, with Radu Potcoava, which will soon be released. I am working on a lecture-performance at Act Theater with Eugen Jebeleanu. Otherwise, I am still performing in Braila, at the Maria Filotti Theater, where we are all waiting for the building to be finished in order to act again in the main hall.